Top 4 Reasons Why You Need ERP with Real-Time Insights

Making data from all areas of your business readily accessible is just the first step to unlocking business intelligence across your organization. To take your organization to the next level, you need connected data, business analytics, and guidance on how best to use them so you effectively manage your organization and make informed decisions.
Nowadays businesses generate tremendous amount of data every single year and if you do not have a system in place to collect and analyse the data in real-time to create insights, your business is in serious risk.
Modern business ERP solutions help you see everything your organization is doing in real-time, empowering your workforce to make more informed decisions and achieve greater outcomes for your business while lowering your cost.
Download Now: A new approach to evaluating ERP [Free ebook from Microsoft]
Therefore, let us show you how actionable insights can help you understand your customers better and respond to them more quickly, while at the same time creating a more productive, agile workforce.
Which can bring better results in a shorter time for your organization. Real-time insights allow your business to react quickly to market changes without delay. Real-time insights can capture opportunities for your business.
Like this your business become more agile and flexible to any changes might be happening and potentially influence your business. Whether in a good way or a bad way.
If you are learning about ERP systems, then download our ebook: A new approach to evaluating ERP from Microsoft to learn how to evaluate your ERP systems.
What are Real-Time Insights?
Real-time insights are collected data as soon as they become available and with help of AI (artificial intelligence) it will be transforming into understanding of a specific cause and effect within a context to help how to solve a problem. This insight is usually displayed within your selected dashboard with graphs, charts, and tables in no time.
Real-time insights give you the information you need to effectively run your business and make inform decisions.
With modern business ERP Solutions such as Dynamics 365, you will be enabled with AI and business intelligence to quickly analyze data and create powerful automation for your reporting, so you can save yourself time and energy.
The Digital Feedback Loop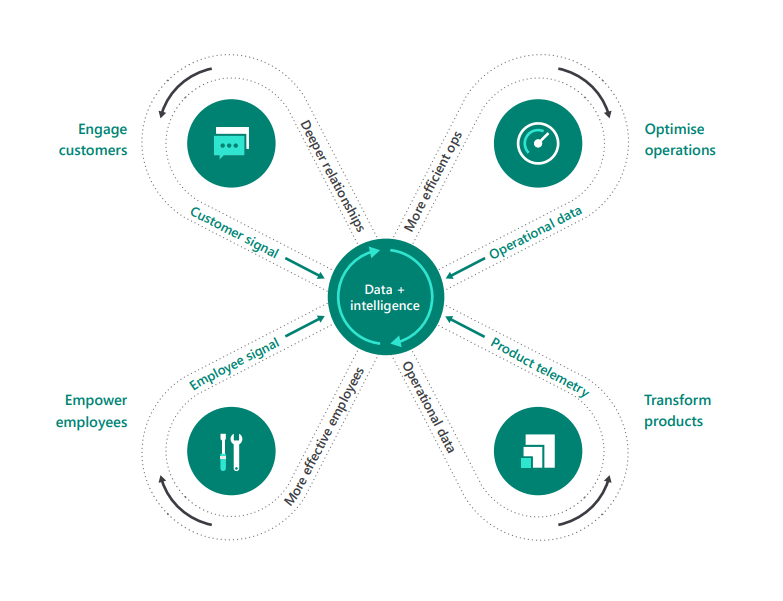 The Future growth across all industries – and the organisation and business models of entire industries themselves – will be largely driven by the more intelligent application of digital technologies to engage customers, re-imagine products and services, transform operations, and empower employees.
The digital feedback loop can supercharge your business with data and analytics in one place. This will help your employees make smarter key decisions with reduction of the complexity of static data.
Therefore, the key to enabling success is how companies use, manage and leverage its data to create the insights in real-time.
1. Improve engagement with customers
The way businesses engage with customers has been dramatically altered in this increasingly connected world. Today, your organization needs insight into the marketplace and your customers to create personalized, contextual interactions across all channels, in turn promoting customer loyalty.
To bring your engagement with customers to the next level, your organization must know what your customers want before they do. Therefore, connecting your devices, IoT and other technologies brings a unified 360-degree overview of your customers.
Thanks to modern ERP and CRM applications you can deliver greater relevance with inside information with intelligent insights, workers can enhance their productivity using dashboards, contextual charts, and graphs to get vital insights on customers in real-time.
Predictive lead scoring, for example, can improve your sales team's win rates by prioritising prospects who are most likely to become opportunities. And with access to customer relationship history along with contextual prompts, your sales team can tailor their interactions to each individual.
According to Dresner Advisory Services, dashboards are the most essential feature strategic to BI.
Anticipate customer needs
Using real-time insights also helps you develop and build stronger customer relationships by anticipating what people want using data from multiple sources, including social media such as LinkedIn and relevant news.
This gives you overview of your customers and content to predict customers future needs and provide relevant offers tailored to their specific needs.
Dynamic profiles that track customers and their social media activities can help you create deeper relationships. And through awareness of their online service requests, your team can customize communications and respond rapidly to specific needs, increasing customer satisfaction.
Such as information brings us to real-time insights as only data are not enough and having business intelligence comes with artificial intelligence that helps you to transform those data into the actionable insights.
Dynamics 365 Demo
Dynamics 365 has helped 24 Hour Fitness engage customers wherever they are with activities suited to their interests. The company details each customer's wellness goals in its digital guest registry, and then uses data analytics to craft marketing messages tailored to the person. This innovative approach has helped 24 Hour Fitness stand out in a crowded industry while helping millions of members reach their full potential.
"By using Microsoft Dynamics 365 and Adobe Experience Cloud, we're able to serve up personalized content to every individual, and that builds trust and long-term relationships," says Jenn Galantini, Director of Acquisition Marketing at 24 Hour Fitness.2
A New Approach to Evaluating ERP System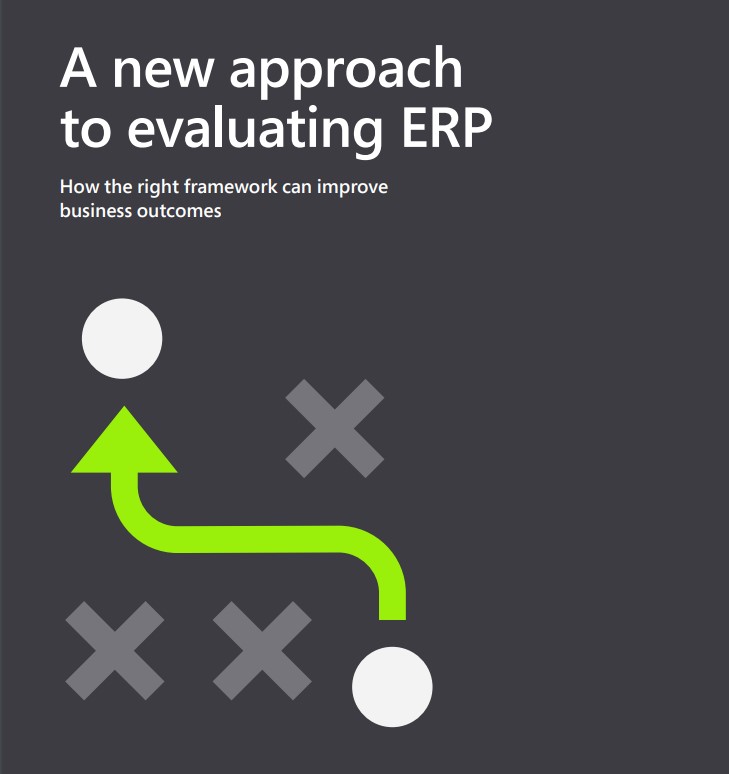 2. Optimize your operations
From factory floors to conference room acoustics, Modern ERP solutions can impact the way your business uses its workspaces and transforms its processes. It not only enables businesses to be more cost-effective and worker-friendly but also encourages a proactive approach to problem-solving. Deep insights increase the ability to anticipate future needs and act on them in advance.
Therefore, with real-time insights your operations can be focusing on continually improving its activities that enhance your business and lead to delivering your products and services to your customers.
With data transformed into the insights your business will be able to concentrate on things that add value and avoid those that do not.
This will help your quality management in your organization and prevent you from making costly mistakes by having contextual data to make smarter decisions.
Accelerate impact with machine learning
With machine learning, you can transform your business processes, so they are smarter and more productive. By connecting real-world data from thousands of automated parameters in real time, there is a tighter link between machine, supplier, and customer.
This improves product quality and production times to better meet customer expectations, while eliminating waste.
Machine learning with AI capabilities help you manage and analyse structured and unstructured data and offer functionalities such as document, content and image recognition and analytics reporting.
These technologies are already used around us in the business world and it will be more and more important for businesses to leverage these technologies with having effective ERP systems to manage and control it.
According to Accenture says businesses are seeing faster resolution and a 30-percent increase in capacity — two factors that are driving customer satisfaction.
"When you look at it in terms of the efficiencies around improving how quickly people can do things, how easily people can do things, I'd say that's where Dynamics 365 had the biggest impact," shares Mark Everest, IS Development Manager at Renault Sport Formula One Team.3
The breakneck speed of Renault Sport Formula One Team cars requires a system that can keep up with the rapid pace of racing technology. Renault adopted Microsoft Azure Machine Learning to track extensive data, from ambient temperature to information about the cars' tires. These details are integrated into a simulator that creates a model of the cars' performance, down to tire temperature variations in relation to current track conditions. The team's proactive approach helps predict how their cars will perform in future races, improving the operation of their entire process.
Make informed decisions with unified reporting
Artificial intelligence and predictive data engines can streamline the way you do business by offering real-time reporting capabilities that help your team get more from their data.
Thanks to reporting dashboards included within modern ERP applications you will increase visibility of your financials that help maintain financial integrity and across the accosting and audit work cycles.
With smart ERP systems, you have access to role-based, customizable workspaces that provide a unified overview of business processes using visuals, tiles, KPIs, and quick links that drive productivity. These insights can be used to improve product quality and the speed of delivery while simplifying your resource management systems at the same time.
All these reports and others will help your team save time and maximize their accuracy while boosting their efficiency.
Although you may be handling tremendous amount of data and data requests daily, with unified reporting you would be able to can track data as it occurs in real-time, enabling your company to make hour-by-hour decisions on how to manage your business.
3. Increase productivity & empower your employees
Using artificial intelligence is not about replacing human skills – it is about amplifying human ingenuity with intelligent tools that surface actionable insights.
As there are many benefits of using AI within your company, the one of the most significant benefit is that it is empowering your employees to work better, faster, and more accurately.
So instead of letting do your employees manual work such as gathering data, creating report, and analysing it, AI is collecting it for them automatically and create graphs, tables and charts instantly to get the real-time insights.
This will significantly improve your company productivity with gaining the insights you need to make the decision.
And not just for reporting AI can be used. According to TechRepublic, many companies are using AI to automate cognitive work. This help cut down on tedious work and focus more on important task while AI can do the rest.
React smarter with predictive analytics
What are predictive analytics?
Predictive analytics comes from a variety of statistical techniques from data mining, predictive modelling, and machine learning. It is extracting information from existing data sets in order to showcase contextual insights to determine patterns and predict future outcomes and trends and show possible outcomes of future events, but does not tell you what will happen in future.
The predictive insights capabilities embedded in today's modern ERP software's can help your team uncover patterns in historical or transactional data to help guide better decision making, which in turn boosts overall performance and profitability for your organisation.
And luckily these capabilities are not for experts anymore such as is PowerBI from Microsoft. Many organizations can make decisions faster based on data they trust, putting them in the position not only to react just in time, but to be one step ahead.
With cloud-based Dynamics 365 and Power BI, sales personnel, external distributors, and the business management team all have access to the same customer and sales activities to track, analyze and respond to data in real-time. What is more, Dynamics 365 helps businesses predict future IT costs and adapt and scale processes for greater efficiencies.
Surface insights with mixed reality
Many workers need real-time information and data in the context of their real-world work environment. Mixed reality is uniquely suited to do exactly that. Technicians at German automotive supplier ZF Group are using augmented reality to perform predictive maintenance and complicated repairs remotely. Off-site specialists collaborate with on-site workers in all 230 locations by using augmented reality rather than travelling to see the equipment in person.
"People are already making use of this kind of technology in their private lives," says Chief Information Officer Jürgen Sturm. "It makes a great difference when we can use this technology to work together globally during the day and still be at home with our kids at night."
4. Digitally transform your product
Take digital transformation to the next level with vital insights gained from machine learning and AI to find new ways to improve the quality of your products and help reinvent your business model to offer new value to your customers.
Harness real-time data to uncover patterns
Modern ERP applications can help your business look at customer data in a new light by uncovering purchase patterns, seasonal variations, and other crucial information to improve your existing line of products and create new ones. Children's Mercy Hospital created an app that helps save babies with a rare form of heart disease. The hospital found that the survival rate for babies who were monitored by the app increased to 100%, while the app also lowered costs for families and hospitals by decreasing hospitalisations.
Nurse Practitioner Lori Erickson is acutely aware of how the app has dramatically transformed the way Children's Mercy treats affected children.
"If we follow 30 kids a year, that's a whole kindergarten class that was saved, and that's crazy," Erickson says. "We didn't know what we didn't know before and didn't realize that we were missing trends due to only getting [data] once a week." (Source)
Connect data to create value-added service
When you can identify customers' needs before there is a problem, you're building value-added services that transform one-off transactions into long-term customer loyalty.
Put your insights in action
Dynamics 365 is ready to help your business identify trends, anticipate opportunities, and gain powerful insights through deep analytics and data visualization. Enabling business intelligence across your organization will provide the actionable insights your workforce needs to build deeper customer relationships, optimize operations, and improve the quality of your products. Now you can become more agile and proactive by harnessing the potential of big data in practical, game-changing ways.
A New Approach to Evaluating ERP System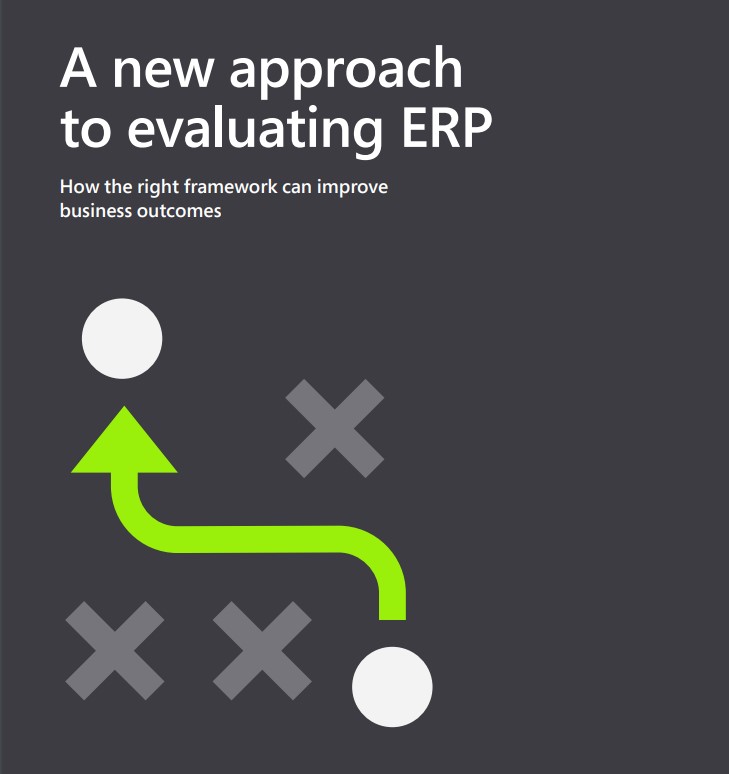 Related Articles
Additional Resources:
For more resources visit our Resource Centre, where you can find plenty of ebooks, whitepapers, guides and infographics to download for fre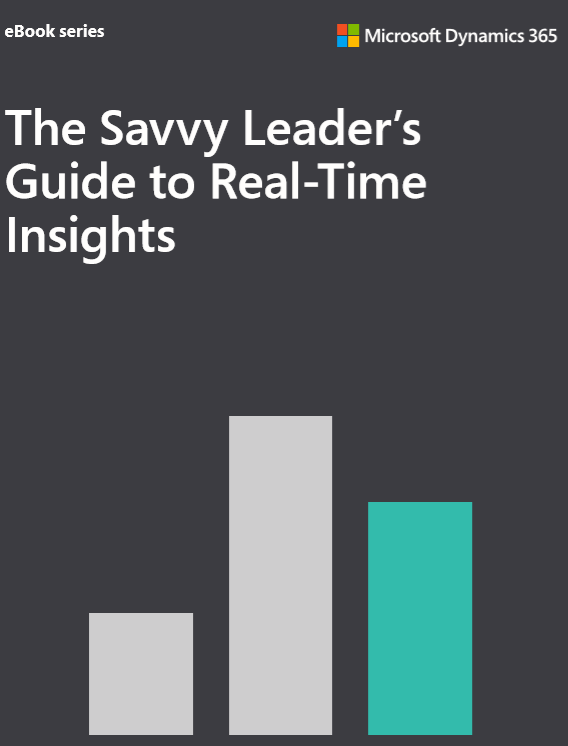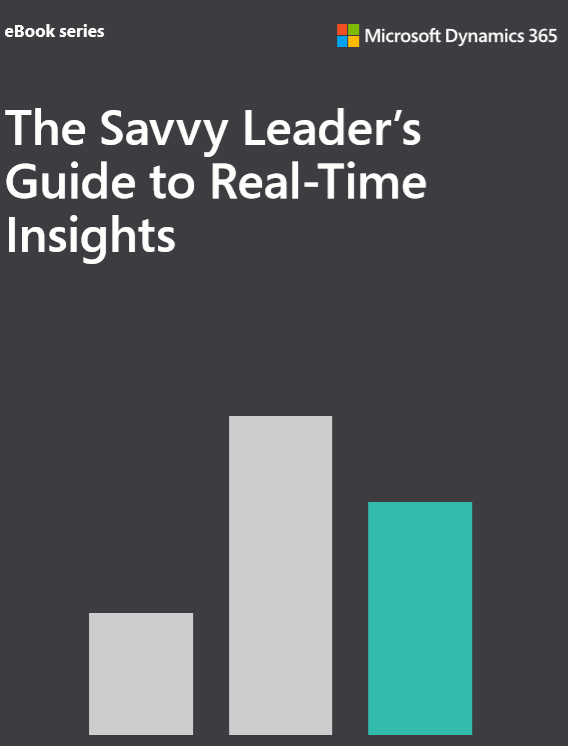 Free eBook
The Savvy Leader's Guide to Real-Time Insights
Making data from all areas of your business readily accessible is just the first step to unlocking business intelligence across your organisation. To take your organisation to the next level, you need connected data, business analytics and guidance on how best to use them.
---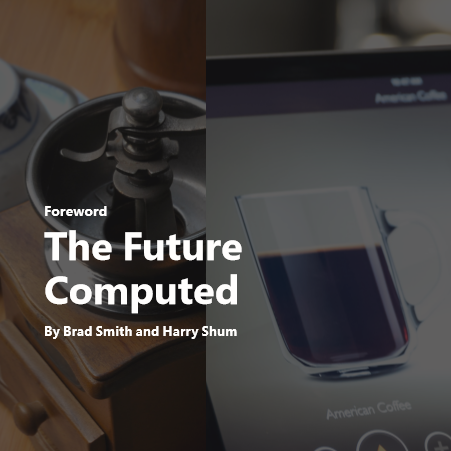 Free eBook
The future computed – Artificial intelligence and its role in society – Data AI
Twenty years ago, for most people in China, an LED alarm clock was probably the sole digital device in your bedroom. A bound personal calendar helped you track the day's appointments, addresses, and phone numbers. After sending your kids off to school, you likely caught up on the world's happenings from a radio broadcast while you ate a quick breakfast of soya milk with Youtiao at your neighborhood restaurant. In 1998, commuters in Beijing buried their noses in newspapers and books – not smartphones and laptops – on the crowded trains and buses traveling to and from the city's centers.
---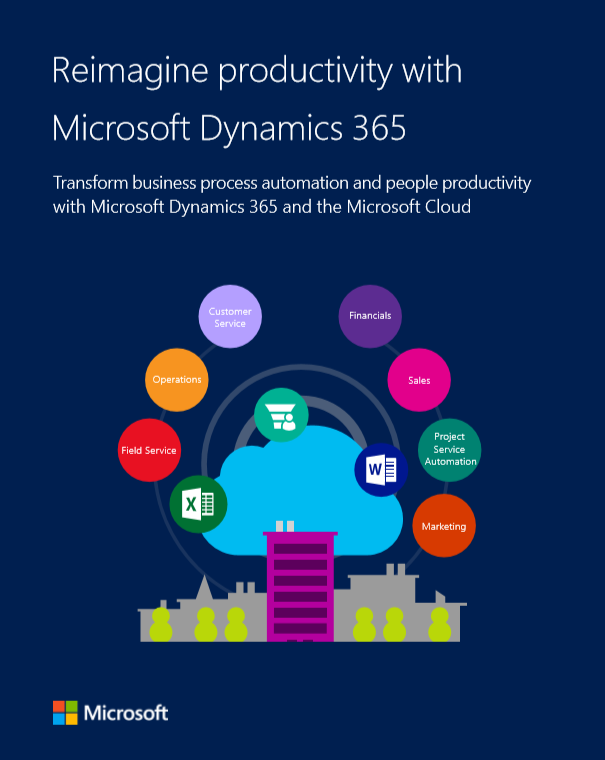 Free eBook
Dynamics 365 Reimaigne Productivity
No matter how you access and use your systems—anywhere, anytime, across your devices—you will receive the same seamless experience and enterprisegrade security to protect your business and customers. Microsoft business solutions are designed to get you up and running quickly and help you grow efficiently as your needs change.
https://adynamics.com.my/wp-content/uploads/2020/06/Top-4-Reasons-Why-You-Need-ERP-with-Real-Time-Insights-scaled.jpg
1707
2560
Eduard Dziak
https://adynamics.com.my/wp-content/uploads/ADS-Gold-Microsoft-Partner.png
Eduard Dziak
2022-05-05 12:42:00
2022-05-11 15:12:37
Top 4 Reasons Why You Need ERP with Real-Time Insights