Cloud ERP Statistics in 2023

Are you curious about the state of Cloud ERP in 2023? Then look no further.
We've curated, vetted, and categorized a list of up-to-date stats below.
DOWNLOAD EBOOK: The Savvy Leader's Guide to Real-Time Insights
Click to jump to a category, or keep reading for our top Cloud ERP statistics.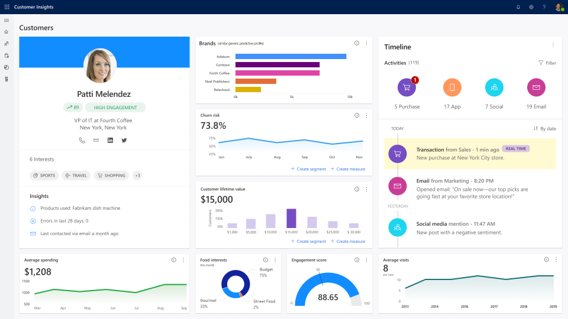 Need help?
Get help from Dynamics 365 Experts to help you choose the right Cloud ERP system for your business.
Top Cloud ERP statistics in 2023
By 2021, spending on cloud services and cloud-enabling IT will more than double to over $530 billion. (Adynamics)
In a survey of IT decision-makers, 53% said Cloud ERP was an investment priority, in addition to CRM. (ComputerWeekly)
89% of CIOs will accelerate public cloud investments. (Microsoft)
An international survey of ERP users indicated 64% of companies using SaaS, 21% using cloud ERP and only 15% using on-premises. (HubSpot)
An on-premise solution is generally more expensive by about 30% than cloud technology. (Finance Online)
Around 22% of businesses with existing on-premise ERP are looking for IaaS or managed hosting. (Finance Online)
CIO's listed predictive analytics and deep learning as the most critical ERP technologies to gain a competitive advantage. (Acumatica)
Businesses now allot 30% of their IT budgets into cloud solutions with PaaS (21%), IaaS (30%), and SaaS (48%) among the top expenditures.
50% of companies are soon acquiring, upgrading, or planning to update ERP or Cloud ERP systems soon. (TEC)
As a bonus, SMBs only use the energy they need for their cloud apps. Since servers aren't running idle waiting to be utilized, operations become more energy-efficient, reducing the carbon footprint of the business. (Adynamics)
Overwhelmed by the amount of statistics and data? Download our free ebook on data intelligence and how to transfom it into insights.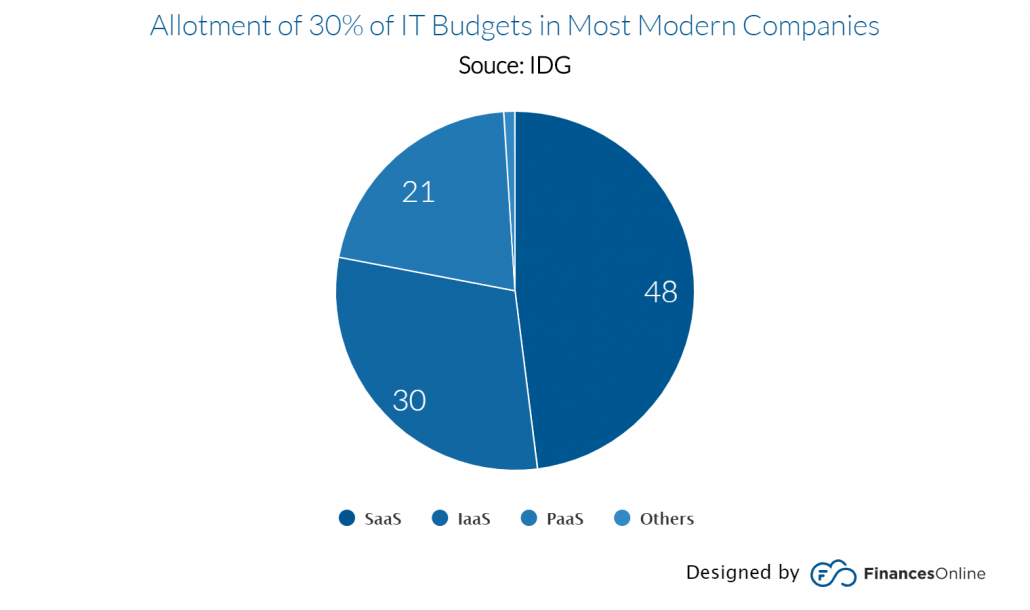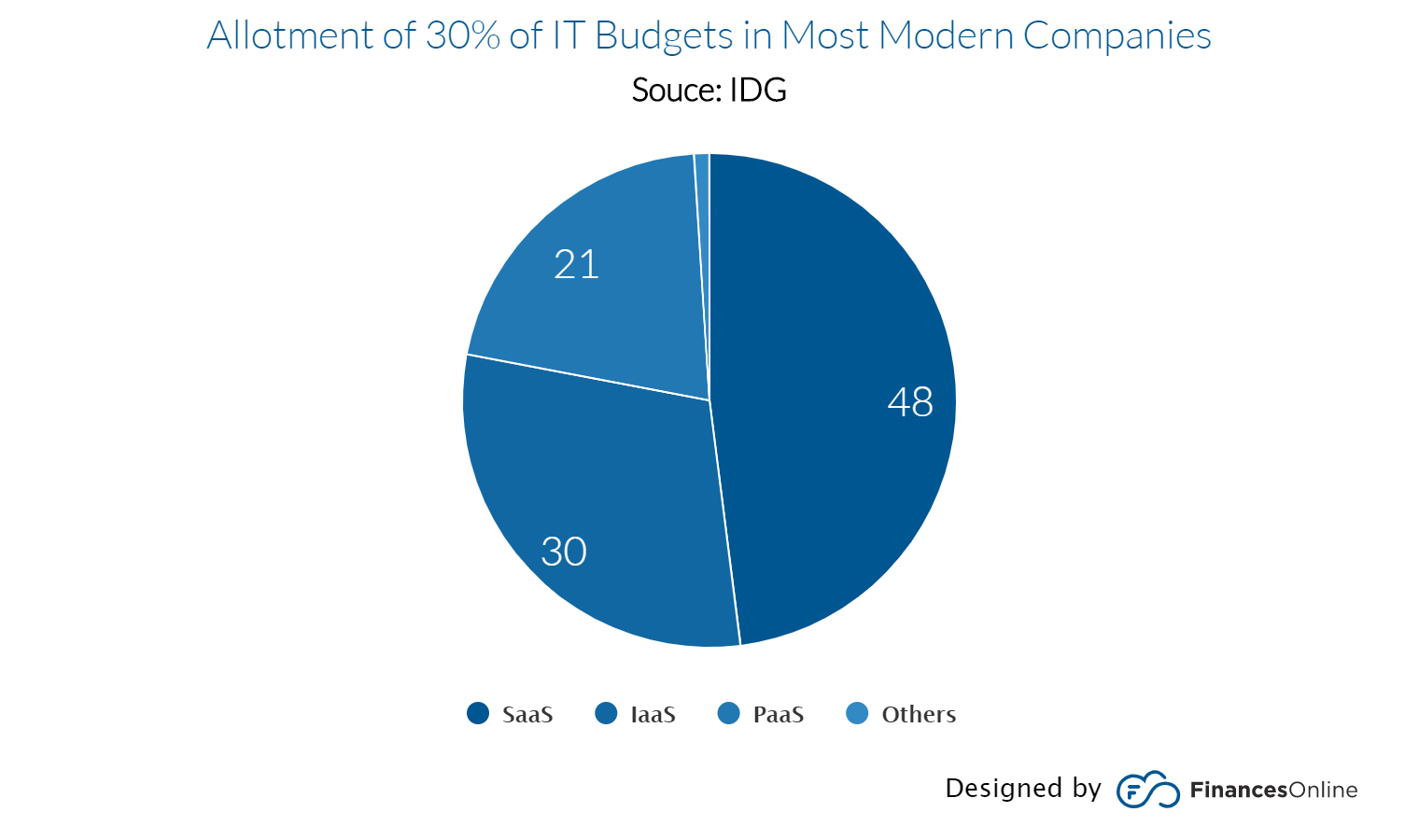 Small Business Cloud ERP statistics 2023
84% of growing businesses feel that mobile technology has positively affected their company's productivity. Therefore, Cloud with Mobile access is essential to run a business. (Adynamics)
In a survey of small businesses with 50–99 employees, 57.5% strongly agreed on investing in cloud and hosted solutions. (IDC)
Small businesses with ERP systems can make decisions with 36% less time than they did without the solution.
65% of small businesses are taking advantage of ERP consultation services.
The vast majority of SaaS ERP adoptions to date have occurred in small to midsize companies and subsidiaries of larger enterprises. (Accenture)
96% of emerging businesses that excel in their respective industry rely on some form of ERP solution.
In a survey of small businesses with 50–99 employees, 57.5% strongly agreed on investing in cloud and hosted solutions. (IDC)
The Savvy Leader's Guide to Real-Time Insights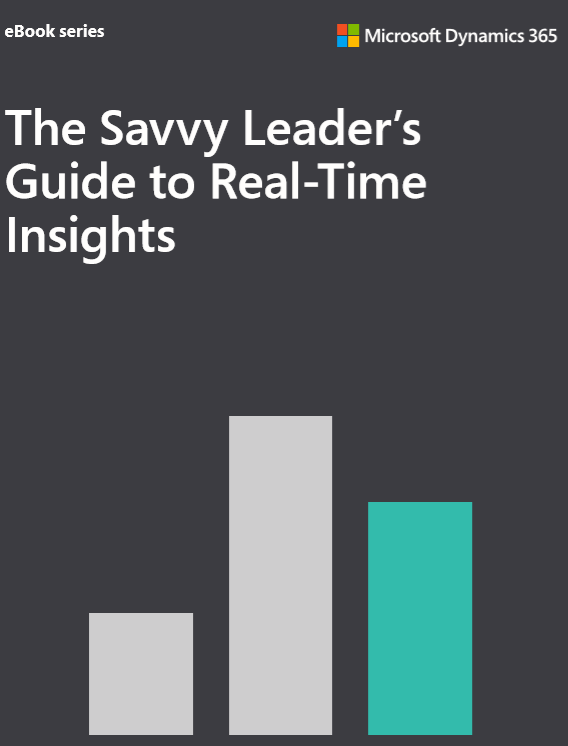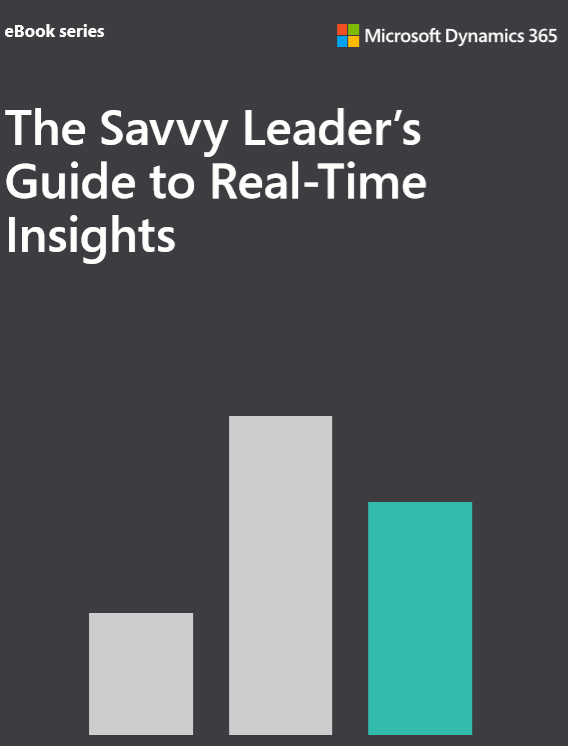 Small-Medium Business Cloud ERP statistics
SMBs that invest in the cloud report up to 25% growth in revenue and up to 2x the profits over those who don't. (Adynamics)
Respondents from the SMB market noted that it takes about 11 months to fully realize the benefits of ERP.
In a recent study by ComScore, over 40% of small businesses were worried about data security before moving to the cloud. After making the switch, 94% of businesses reported security benefits they had been unable to achieve with their previous on-premises resources. (Adynamics)
SMBs choose ERP systems over standalone platforms because (1) it helps standardize back-office operations by 77%; (2) minimizes overall operation expenses by 11%; and (3) provides real-time visibility into various data and insights by 48%.
Nucleus Research determined that companies that use Microsoft Dynamics 365 see a return of $16.97 for every $1 spent. That's well above the average for on-premise ERP and CRM applications. (Adynamics)
87% of SMBs already use at least one cloud infrastructure solution. (Adynamics)
92% of SMBs are now using at least one cloud business solution. (Adynamics)
Large Business (enterprise) Cloud ERP statistics
60% of enterprises now implementing an organization-wide digital platform strategy. (Adynamics)
Cloud ERP Benefits statistics
93% experienced an increase in productivity outside of the office because of cloud technology. (Adynamics)
Companies that had very successful ERP implementations noted internal organizational elements like support from management, good change management programs and due diligence as primary reasons for success. (HubSpot)
Disaster recovery is much fast and easier with multi-cloud, says 40% of businesses.
ERP improves 95% of businesses who implement it. (Linchpinseo)
ERP implementation led to business process improvement for 95% of businesses. (HubSpot)
The top three benefits businesses said they gained from an ERP system are reduced process time, increased collaboration, and a centralized data system. (TEC)
ERP improves processes in 95% of the businesses that implement it. (Linchpinseo)
After ERP implementation, 49% of companies said they improved all business processes. Only 5% of business said they did not improve business processes. (HubSpot)
The top three business goals cited for Cloud ERP implementation are achieving cost savings (46%), improving performance metrics (46%) and improved efficiencies in business transactions (40%). (Ultra Consultants)
When asked to select areas where ERP produced ROI, the top three answers were reduced IT costs (40%), reduced inventory levels (38%) and reduced cycle time (35%). (HubSpot)
Cloud ERP Challenges statistics
Most implementations cost three to four times what was initially budgeted. (TEC)
Implementation can take 30% longer than anticipated. (TEC)
The biggest challenge for most enterprises is organizational change management. (Datixinc)
Similarly, half of ERP implementations fail at first try. (Finance Online)
System modifications needed to improve usability can cause overspending 65% of the time. (TEC)
ERP implementation causes operational disruption in 66% of businesses. (Linchpinseo)
Moreover, 64% of ERP projects will spend more than the allotted budget. It also reflects the fact that 27% of projects are over budget.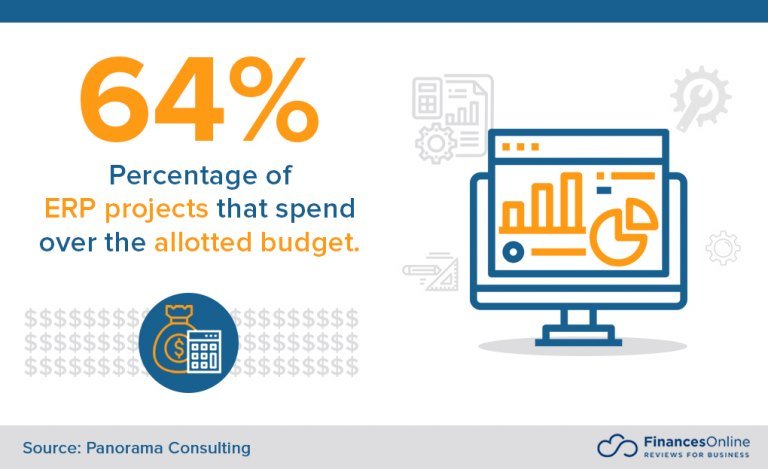 Manufacturing Cloud ERP statistics 2023
Manufacturing companies are the No. 1 user of ERP software. (TEC)
Manufacturers represented the largest portion at 47% of companies looking to purchase ERP software, followed by a distribution (18%) and services (12%). (Select Hub)
Cloud deployments account for 44% of all implementation for survey respondents in manufacturing and distribution. (HubSpot)
67% of manufacturers and distributors described their implementations as successful or very successful. (Ultra Consultant)
Revenue growth occurred for ERP in all areas in 2019, with strong growth for administrative ERP with financial management software (FMS) growth at 7% and human capital management (HCM) growth at 10%. (Gartner)
How to Choose the Right Cloud ERP Software in 2023?
Choosing your Cloud ERP system can be a complicated process and with so many options in Malaysia and Singapore today, selecting the right Cloud ERP system can be an overwhelming task.
Also deploying an enterprise resource planning (ERP) system is expensive to plan for businesses, but with the latest cloud technologies, the ERP systems are becoming more accessible for small and small-medium size businesses.
But as I mentioned, the selection process of your Cloud ERP system such as Dynamics 365, can be complicated process as to just mentioned a few steps you must take are:
Conduct a process review and analysis
Evaluate the technical fit
Understand the total cost of ownership. Check out our article about TCO for Dynamics 365
So therefore to help organizations successfully implement a Cloud ERP system, you can connect with our Dynamics 365 experts and they will provide professional help and asses your company needs to help you choose the right ERP and CRM systems for your business.
Agile Dynamics Solutions is the leading Microsoft Dynamics 365 expert in Malaysia & Singapore to help you choose, implement, and run your Dynamics 365 ERP and CRM systems. Contact us for more information or request your free demo from us.
Related Resources:
https://adynamics.com.my/wp-content/uploads/2020/08/cloud-erp-statistics.jpg
1200
1920
Eduard Dziak
https://adynamics.com.my/wp-content/uploads/2021/08/agile-dynamics-solutions-gold-microsoft-partner-dynamics-365.png
Eduard Dziak
2023-01-13 14:30:00
2023-05-22 14:14:31
Cloud ERP Statistics in 2023