How Dynamics 365 Business Central Provides End-to-End View of SMB in Malaysia?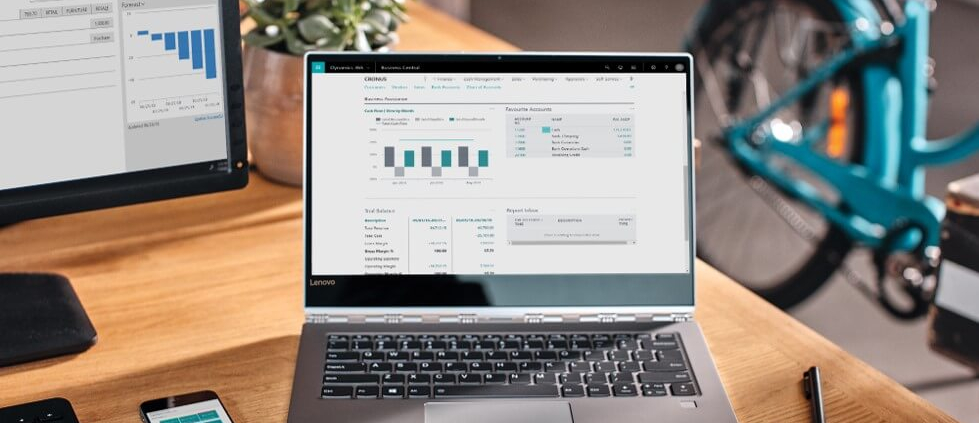 In this article, we will look at how Dynamics 365 Business Central provides an end-to-end view of small-medium businesses in Malaysia and therefore improve business efficiency and reduce costs.
Business Central is a business management solution for small and mid-sized organizations that automates and streamlines business processes and helps you manage your business.
Highly adaptable and rich with features, Business Central enables companies to manage their business, including finance, manufacturing, sales, shipping, project management, services, and more. Companies can easily add functionality that is relevant to the region of operation, and that is customized to support even highly specialized industries.
Therefore Dynamics 365 Business Central provides great visibility with end-to-end view of your business to seamlessly share data across departments and remove silos.
Related Addons from Agile Dynamics Solutions for Business Central:
Centralize Data Across Departments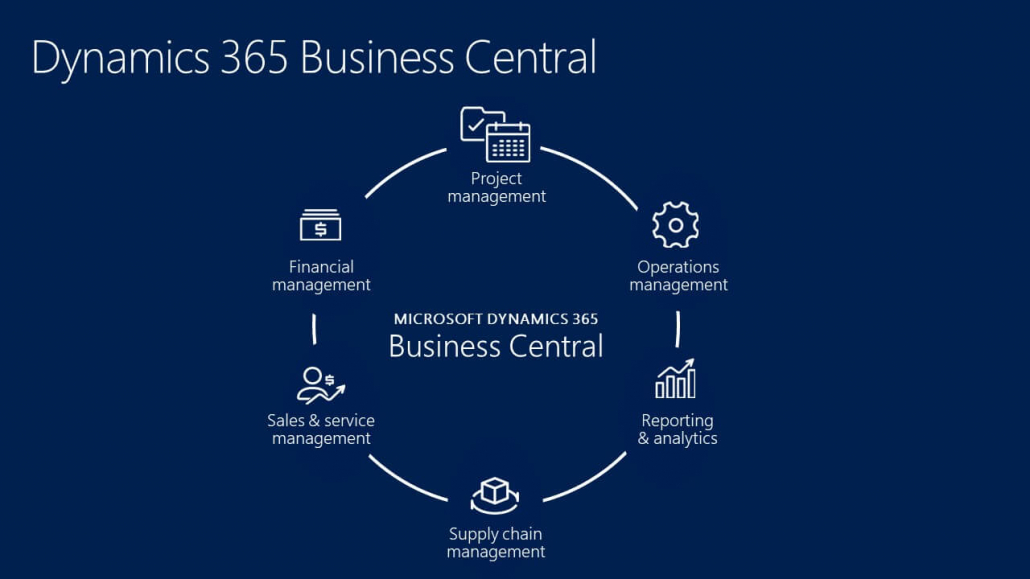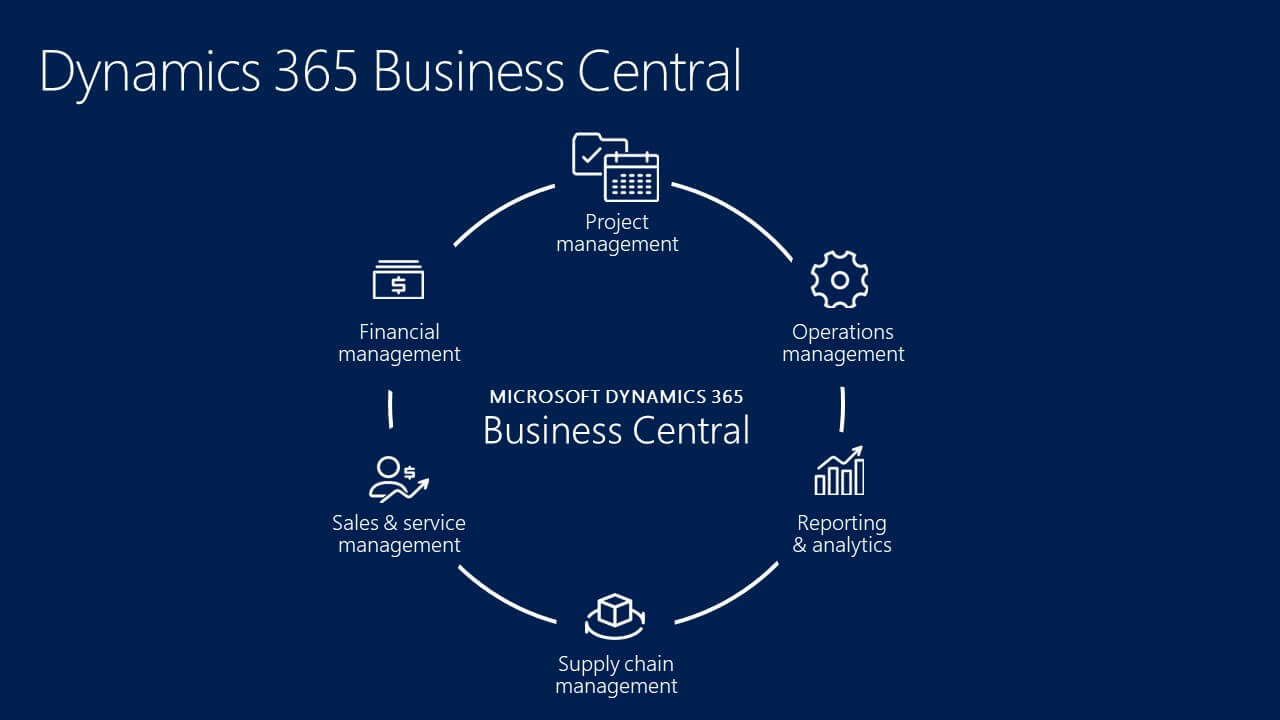 Companies in Malaysia and all around the world are generating tremendous amount of data every day and they are literally flooded with data.
And therefore, the digital transformation has arrived in a new normal where businesses needs to adapt to changes and start utilizing all their data to be more informed and make a faster and smarter decision.
And that is where Microsoft Dynamics 365 Business Central comes to help businesses in Malaysia to digitally transform them and enable to leverage latest technology such as artificial intelligence, machine learning and Internet of Things so businesses can create their own path to gain competitive advantage.
By using your company big data with business intelligence (Such as Power BI) you can centralize your data across departments and easily create powerful workflows to enhance your business productivity.
Microsoft Dynamics 365 Business Central provides a clear end-to-end view of the entire business processes and it easily helps you to navigate around the processes that need to be done quickly and effectively without headache.
Business Central centralize your data from:
Sales & Marketing
Customer Service
Finance
Supply Chain
Manufacturing
Operations
So, you can get an accurate view of your business in one ERP system without time-consuming navigating across multiple systems and avoid duplicated data to get clean data of your business. Learn more about ERP for Manufacturing.
Therefore, it saves time and money, provides consistency, enhances customer experience and optimizes data assets of your business.
Microsoft Dynamics 365 Business Central is ERP and CRM system all-in-one solution that centralize data of small-medium businesses in Malaysia and store it in the secured cloud.
Real-time Data Updates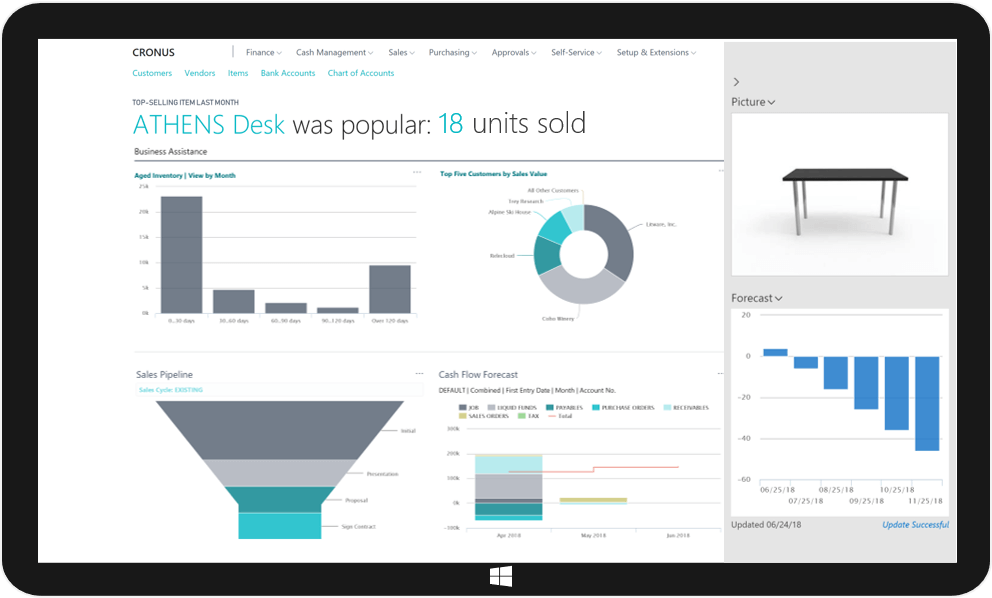 Real-time data are becoming more and more essential for businesses and are required by management to stay relevant for today's business.
And also the importance of real-time data is that it improves customer service, helps you spot trends, prevent issues, improves operational efficiency, and helps keep employees motivated when employees can see how they are performing and what is expected of them.
So, to get accurate real-time data businesses had to create customized and sophisticated communications tools that were really expensive to produce and unfortunately not every organization could afford it.
Therefore Microsoft have created ERP system and tools that enable real-time data and insights that SMBs in Malaysia can afford and leverage tools that used to be used only by large businesses such as AI and business intelligence (Power BI)
With Microsoft Dynamics 365 Business Central you can:
Gather financial data by using connected data from reports, charts, and Microsoft Power BI dashboards across finance and accounting, sales, purchasing, and stock. The late payment prediction extension helps you reduce receivables. And view charts and reports in real-time through built-in reports, Excel, or Power BI. Use unlimited dimensions for your data to identify patterns and trends.
Deliver projects on time and under budget with using real-time insights on project status, profitability, and resource-usage metrics.
Run your warehouse efficiently and use real-time data on every item's zone, bin, and quantity to better fulfil your customers' orders.
Live up to your service promises by seeing real-time data of your customers and Gain a comprehensive overview of your service tasks and workloads to effectively assign personnel to work orders. Keep track of service agreements to deliver reliable service to your customers.
Real-time data are very useful for today's business and are becoming more essential and therefore more organizations in Malaysia are searching for ways how to integrated real-time data with their current systems.
But as I mentioned, with Microsoft Dynamics 365 Business Central you have an end-to-end view across your departments and seamless and natural integration with tools like Office 365, Microsoft Teams and Power Platforms and everything in the most secure and reliable cloud technology, Azure Cloud from Microsoft.
Related Article:
Seamless Integration without Silos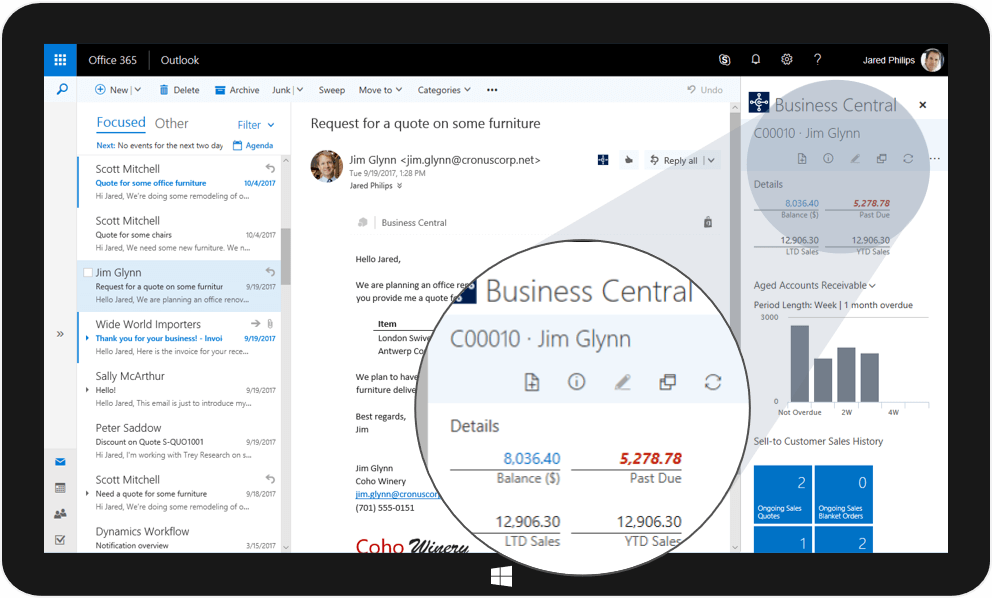 Data Silos are a considerable problem for businesses, as they can decrease business efficiency and productivity due to the lack of systems integration and data communication.
And of course, to some extent, we cannot avoid data silos completely, at least not in the current state of modern technologies, but with seamless data integration, you will be able to greatly reduce those data silos.
And your business already might be using some productivity tools such as Office 365 from Microsoft but if your ERP system does not communicate properly with those tools, then data silos can cause problems like limited visibility, lack of collaboration, inaccuracy, and inefficiency.
Therefore Dynamics 365 Business Central brings great advantages to businesses in Malaysia as it seamlessly and naturally integrates with tools you are already using like Microsoft 365 or LinkedIn.
This integration makes it really easy for you and your employees to enhance your productivity, get easy access to data quickly and efficiently and effortlessly share data with employees and customers.
Dynamics 365 Business Central is deeply integrated with Outlook, so you can quickly create the invoice for the customer right from the calendar item: Open the appointment, and then you can open the Business Central add-in, look up existing information or create an invoice or another sales document right there.
Business Central introduces the ability to manage business interactions with your customers and vendors, directly in Microsoft Outlook. With the Business Central Outlook add-ins, you can see financial data related to customers and vendors, as well as create and send financial documents, such as quotes and invoices.
Unify your business, and boost efficiency with automated tasks and workflows—all integrated within familiar Office tools like Outlook, Word, and Excel with Dynamics 365 Business Central for Malaysia.
What's Next?
Microsoft Dynamics 365 Business Central the ERP and CRM system in all-in-one opens great possibilities, features, and capabilities to small-medium businesses for very affordable price.
Microsoft had created this ERP and CRM software for SMBs to enable adapt and grow their business with the latest technologies.
And Agile Dynamics Solutions as the Dynamics 365 expert in Malaysia has been serving customers for over 30 years with a great deal of experience across industries.
To learn more about Dynamics 365 Business Central, visit our product page, request for a demo, or contact us and we will deliver personalized information based on your needs and industry.
Sources:
https://adynamics.com.my/wp-content/uploads/2020/09/how-dynamics-365-business-central-provides-end-to-end-view-of-smb-in-malaysia-and-singapore.jpg
554
979
Eduard Dziak
https://adynamics.com.my/wp-content/uploads/2021/08/agile-dynamics-solutions-gold-microsoft-partner-dynamics-365.png
Eduard Dziak
2023-01-10 15:32:00
2023-05-15 15:52:29
How Dynamics 365 Business Central Provides End-to-End View of SMB in Malaysia?