How Challenges of Disconnected Systems are Holding Back Malaysian Business?

If you're a business owner, your workday often begins at home, triaging emails early in the morning. Having grown the business from the ground up, you know your customers and vendors, and you're still involved in day-to-day operations.
But the bigger the company gets, the more complex your business processes become. Each email adds something to your to-do list, which typically requires transitioning to a different application.
DOWNLOAD OUR EBOOK: REIMAGINE PRODUCTIVITY WITH DYNAMICS 365
You use accounting software to prepare an invoice, a CRM system to manage your contacts and sales pipeline, and perhaps yet another ERP for manufacturing solution to track production or inventory.
Switching back and forth between fragmented, stand-alone solutions takes time and often requires duplicate data entry. This diminished productivity stifles your ability to scale and cuts into the time you could spend developing new business.
To keep up the pace of your growth, you're likely considering the move to a more comprehensive business management solution.
Microsoft Dynamics 365 Business Central, helps you get through administrative tasks quickly and easily so you focus on the big picture, and your team can spend more time taking care of customers. Let's dive into how Microsoft can help.
But let's looked at some challenges of disconnected data and how it can hold your Malaysian business from growth.
Disconnected systems are big challenges to every organization, but what will happen if you connect your system into one? Learn how Dynamics 365 connects your systems and deliver 360 view of your operation and customers in real-time. Download our ebook for free.
Data are Duplicated with Errors and Employees Wasting Time


The first challenge of disconnected systems is having multiple duplication of the same data with errors and so much time wasted.
Your business generates a tremendous amount of data every day and your employees need that data to effectively manage operations and make smart decisions.
But if your systems are disconnected and each department is using disconnected and different tools to generate and manage the data it negatively affects your business.
As your employees need to duplicate the data into different systems manually it is more likely that human error can occur making the dirty data. This can affect your decision-making and leading your organization.
Therefore, you not just wasting employees time but also duplicated data can cost your business a lot of money as The amount of data in the average B2B organization typically doubles every 12 to 18 months, so even if data is relatively clean today, it is usually only a matter of time before things break down.
According to RingLead, It takes $1 to verify a record as it's entered, $10 to cleanse and de-dupe it, and $100 if nothing is done, as the ramifications of the mistakes are felt over and over again.
And as data are becoming more important the need for connected systems is becoming more urgent for businesses to effectively manage data, make decisions based on facts, and carry out on innovation.
Difficult to Get Full Picture to Make Smart Decisions Fast
Having your data scattered across numerous disconnected systems you can hardly see what is happening in your organizations, what sales quotes are being paid, what payments are due, what customers are having trouble, and so on.
All this information is important for business leaders to get the full picture of their businesses to make fast and smart decisions whenever is needed.
But if your business is using different tools to manage a different part of operations, you can hardly see what is happening inside your operation.
Therefore if you need to make decisions, you need to wait for your employees to manually pull out the data and send it to you, which costs your business money as your employees and can't focus on more important tasks.
And of course, then you need to put all this information together to see what is happening within your organization which costs you a lot of time.
As people are duplicating data in multiple systems human errors can occur. Thus, it can make it ineffective to make business decisions.
So if your organization is struggling to get a single source of truth to make smart and fast decisions, then you are probably using disconnected systems.
To learn more about how you can digitally transform your operation with a single source of truth and connected data, check out our all-in-one business application for small-medium businesses in Malaysia.
REIMAGINE PRODUCTIVITY WITH MICROSOFT DYNAMICS 365
DOWNLOAD THE EBOOK FOR FREE NOW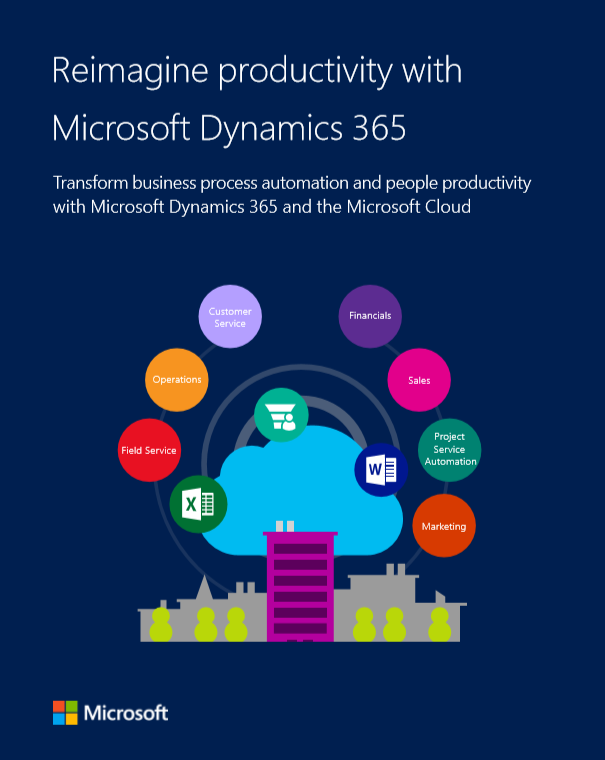 Higher IT Resources Requirement that Slow Down Computers
Another challenge of disconnected systems and how it holds you and your business in Malaysia is that you and your employees must run numerous systems simultaneously in the background to work.
While computers are getting better to manage more workload at the same time, the average employee is using 28 different apps to complete basic tasks with at least five apps open simultaneously.
Also, most workers toggle between apps up to 10 times every hour, which means that companies are losing up to 32 days of productive work per employee every year. (Source)
Different apps not only slowing down employee productivity but interfaces between systems running in the background tie up computer bandwidth and slow everything down.
I am sure you have experienced slow computer while working, or even computer getting frozen in the middle of your work. This is not only frustrating but also has a big impact on employees productivity as it disturb the whole process.
But to work with disconnected systems, employees are pushed by companies to use numerous applications simultaneously to complete tasks. Thus businesses have only two options, buy super-powerful computers for all their employees or connect their operations with all-in-one ERP & CRM applications to reduce number of applications emloyees need to use to complete tasks.
Contact us to learn more about how Dynamics 365 and Microsoft 365 are seamlessly connected to allow your employees to start and finish tasks within Outlook, Excel, Word, or Teams making your employees more productive and your operation efficient.
Dirty Data with Many Different Variations
Dirty data are costly for businesses as it results in waste of company resources, lost productivity, failed communication, and wasted budget based on poor decisions.
According to Marklogic, it is estimated that 27% of revenue is wasted on inaccurate or incomplete customer and prospect data.
As different departments are entering related data into siloed systems many duplications and human errors can occur due to manually copying, inserting, and pasting data into different systems.
Thus end-users who rely on that data must spend extra time control and confirming its accuracy, further reducing speed and productivity.
And dirty data can remain hidden for years, which makes it even more difficult to detect and fix them. Unfortunately, 57% of businesses find out about dirty data when it's reported by customers or prospects—a particularly poor way to track down and solve essential data issues.

So dirty data not only impacts your employee's productivity but also dirty data lacks the credibility of your brand.
Cleaning dirty data is a big challenge but as data governance is becoming more important it is necessary for companies to manage their data effectively, securely, and follow on compliances introduced by governments.
Therefore, data across systems must be harmonized and harnessed data into 1 system where you can leverage data with tools like business intelligence to transform data into insights in real-time and make smarter decisions.
Thus, further limited cleaning data and provide accurate reporting. With the right solution, you can get a 360-degree view of your business in real-time and quickly adapt to business changes.
Some Old Legacy Systems Have High-Cost Maintenance or Support not Available Anymore
Industry after industry has experienced accelerated innovation and disruption in their legacy businesses due to digital transformation and cloud migration. ​
Just as we can see within industries:
Manufacturing:​
Predictive analytics enabled by AI is the #1 use case for enterprises across manufacturing​
Manufacturers are seeing and an average of 17-20% productivity gain from smart factories.​
According to Gartner Inc from a group of 205 respondents representing line-of-business leadership the benefits of cloud migration were substantial. On benefits of from digitization: 61% said their say improved flexibility of production lines, 61% said they saw real-time monitoring and error-proofing of production processes, 60% found improved flexibility of production processes and steps, and 58% improved access to real-time production data and key performance indicators.​ (Learn more) Check out best manufacturing ERP in Malaysia.
Retail:​
Smartphones were used in more than one-third of US retail sales in 2018, including everything from initial product research to actually making a purchase. That accounts for more than $1 trillion in sales—Forrester​​
Mobile Will Influence $1.4 Trillion In Offline Sales By 2021.
Supply Chain:​
By the end of 2020, 33% of all manufacturing supply chains will be using analytics-driven cognitive capabilities increasing cost efficiency by 10% and service performance by 15%.​
Across Supply Chain customers 68% saw efficiency improvements, 58% saw increased agility, 56% decreased cost to serve, and 56% better customer service ​
Businesses are moving away from home-grown legacy systems and positioning themselves for continuous innovation.
They migrated its processes and systems to the cloud to engage customers in new ways, optimize IT and business operations, drive productivity from employees, and transform the products they offer.
Growing businesses often outgrow their legacy ERP systems that are unable to handle increased transactions, lack integration with other line-of-business systems, and have reporting limitations.
Customers also feel pain around scalability and mobility.
Legacy systems cause:
Systems are disconnected and information is siloed
Duplicate data entry into multiple systems is a daily routine
Accounting occurs in Excel, not your financial system
Reporting is complicated and provides insufficient information
Lack of secure workflows and audit trails increase risk
Inability to handle increased inventory and transactions
Poor Collaboration as Each Using Different Solutions to Complete Tasks
As every department is using different tools to complete tasks it makes for other departments almost impossible to get hands-on data from the different departments without both teams wasting so much time to duplicate and sending over the data.
This an ineffective way of how teams must collaborate when using different solutions costing your business valuable productive hours of your employees.
And although employees are more technologically interconnected than ever before, the silo effect continues to be a problem in offices of all types.
This creates a barrier between teams as it makes it very difficult to collaborate and get the information they need and lowering the quality of work. Thus, spending so much time on reporting.
If you are seeking Improved productivity, collaboration, intelligence, and efficiency with Dynamics 365 you can take advantage of a multitude of integrations and real-time data. Contact us to learn more.
Connect people, processes, and systems with Dynamics 365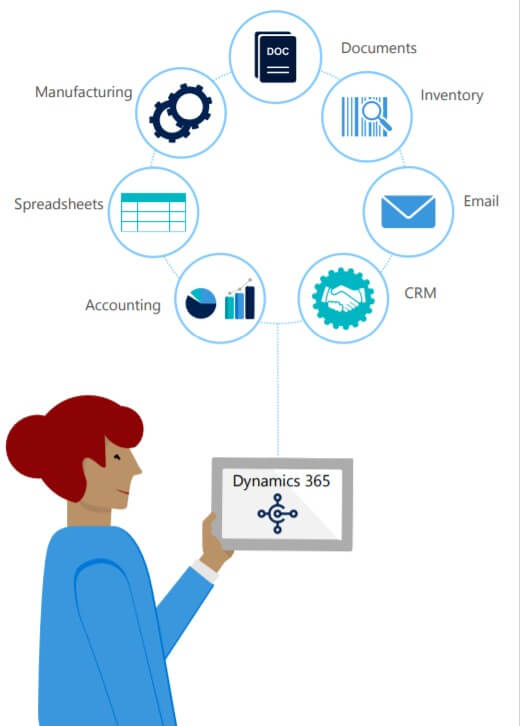 Reimagine Productivity with Dynamics 365 and Microsoft 365 Microsoft brings the worlds of business processes and personal productivity together, connecting your people, processes, and systems like never before.
Right now, your employees might be the only common link between your business systems and the email, spreadsheet, and word processing tools you use every day.
This means they waste a lot of time flipping between apps or cutting and pasting, which can lead to data entry errors.
Connected business solutions from Microsoft help pull everything together so your people do not have to.
Together, Microsoft Dynamics 365 and Microsoft 365 help you:
Drive productivity by reducing time spent switching between stand-alone apps
Foster collaboration and communication by breaking down internal silos and broadening visibility across the organization
Accelerate user adoption and lower training time with a seamless user experience
Let's take a look at some scenarios where Dynamics 365 and Office 365 work together to make your people more productive and your business more efficient.
Request for Dynamics 365 Business Central Demo to learn more or Contact us to learn more today.
Related Resources:
REIMAGINE PRODUCTIVITY WITH MICROSOFT DYNAMICS 365
DOWNLOAD THE EBOOK FOR FREE NOW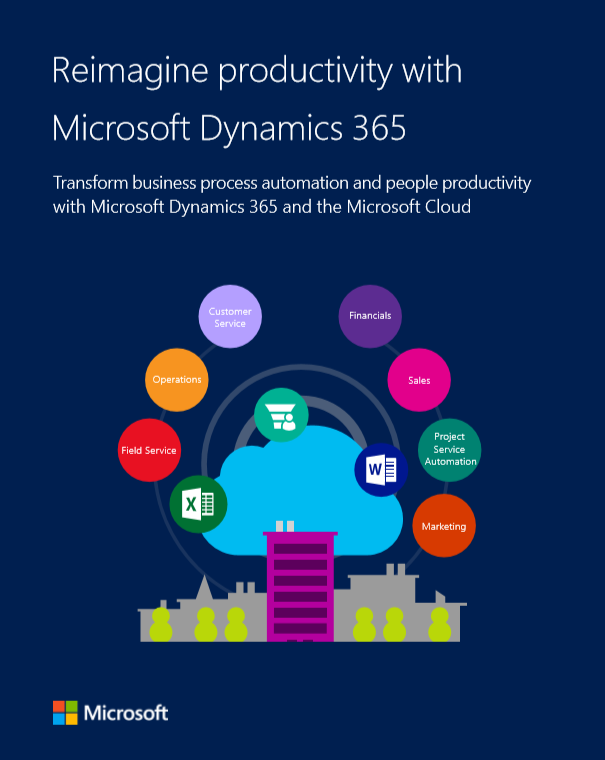 Sources:
https://adynamics.com.my/wp-content/uploads/2020/11/challenges-of-disconnected-systems-in-malaysia-and-singapore.png
737
1967
Eduard Dziak
https://adynamics.com.my/wp-content/uploads/ADS-Gold-Microsoft-Partner.png
Eduard Dziak
2023-01-05 12:43:00
2023-04-14 15:10:09
How Challenges of Disconnected Systems are Holding Back Malaysian Business?