Migrating Dynamics to Dynamics 365 Business Central in Malaysian – Should You Consider It?

In this article I will explain the value and the free promotion of migrating Dynamics to Dynamics 365 Business Central in Malaysia and if you should consider it for your business.
Businesses are facing changes in the business environment, and to adapt, they must change their way how to do business to stay competitive and ensure business continuity.
This includes your on-premises ERP system like Dynamics GP, NAV, SL, and AX that supports your core business operations and data to improve processes efficiency and decision-making ability.
DOWNLOAD GUIDE BUSINESS CENTRAL TOTAL COST OF OWNERSHIP
And although Microsoft has invested a lot into Dynamics ERP and CRM systems to provide the best in class ERP software, as times and technologies are changing, Microsoft ERP and CRM systems have evolved into the Dynamics 365 applications.
So in this article, I want to discover with you if you should consider taking the free upgrade offer of your Dynamics GP, NAV, SL, and AX to Dynamics 365 Business Central.
This offer is made to ease the daunting project of ERP implementation to provide a smooth transition to the latest Dynamics 365 Business Central in Malaysia.
Also, don't forget to download our guide to learn more about TCO of Business Central
Common Challenges with ERP On-Premise


Running ERP systems on-premises can bring potential challenges to IT teams to keep the systems up and running 24/7 without disruption, which can require heavy IT resources from the organization to ensure your ERP system is running smoothly.
And that could be challenging for businesses to dedicate extra IT resources just to ensure the ERP system is running up and smoothly, especially in times like this when the business is slow.
And that is just part of the on-premises challenges your operation in Malaysia might be facing, so let's look at the common challenges on-premises ERP owners are facing:
Data Security & Compliance: One of the biggest challenges your business is facing is to ensure your data are strongly secure against hackers and keep up with all-time changing business regulation and compliance such as GDPR.
Large cap-ex costs: Like I already mentioned your cost of IT resources is higher due to keeping the datacenters in-house and therefore your business needs to have a dedicated IT team for your ERP system.
Less flexible: The year 2020 brought many changes, challenges, and surprises and staying on-premises might restrain you from quickly changing the needs of your business, as doing updates or changes of your on-premises ERP systems needs the full attention of your IT team and often external experts.
Potential Customization Issues: Your business is unique and it requires certain customization so you can run your business as you need, which can lead to reliability and software support issues.
Required Dedicated IT Team: And of course, your dedicated IT team is necessary especially when your applications are customized to meet your organization's unique requirements.
Of course, I am not saying that on-premise ERP systems are going away from us, but currently for most businesses running on-premise ERP systems can be very challenging and therefore Cloud ERP is increasing in popularity.
Why Migrate to Dynamics 365 Business Central?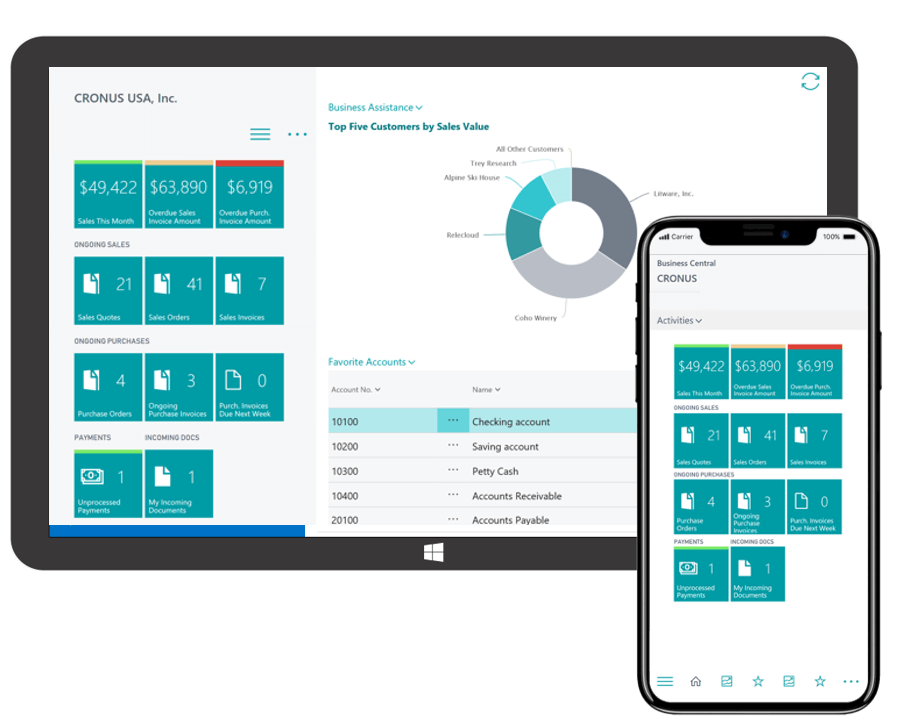 Your Dynamics on-premises solution helped you run and grow your business. But in this time of digital transformation, a modern, cloud-based solution can help take your business to new heights. Business Central helps companies reduce long-term software costs, decrease dependency on IT, and optimize operations and customer experiences through predictive analytics, AI, and data visualizations. Take the next steps to learn how Business Central can help you:
Stay current on the latest Microsoft cloud-powered technology without the hassle and expense of upgrades, backups, and patches.
Reduce total cost of ownership and improve cashflow by transitioning to a predictable monthly operating expense. A modern user interface based on the Office tools you already know means less training time and faster return on investment.
Make better business decisions with advanced analytics. Access, model, and analyze data across multiple dimensions. Seamlessly sync data with Microsoft Power BI to create compelling dashboards and data visualizations.
Leverage your data to build apps specific to your business processes. Further, extend your Business Central solution using Microsoft Power Platform and the Common Data Service.
Gain peace of mind knowing your sensitive business data is stored in highly secure, state-of-the-art data centers owned and managed by Microsoft and a 99.9% uptime service-level agreement (SLA).
Improve remote access and empower employees wherever they need to work with powerful, secure desktop capabilities across Windows, iOS, and Android platforms.
Simplify common tasks with native Microsoft 365 integration. Set up customers or vendors, create quotes, process orders, and submit invoices without leaving your inbox. Easily export data in Excel and create outgoing documents directly in Word.
Utilize the power of AI for predictive inventory, sales forecasting, cash flow forecasting, and overdue payment predictors. Combine big data, predictive analytics, and the Internet of Things (IoT) to transform all information sources into more actionable intelligence.
Configure your systems with ease and connect third-party apps to Business Central using business add-ons from AppSource. Or work with your Business Central partner to build extensions for your specific needs.
Be ready for what's next. Easily add and integrate other Dynamics 365 applications as your business needs change and integrate with other third-party apps.
And there are more benefits of transitioning into Cloud ERP than Dynamics 365 Business Central. Also, you can learn more here on TCO of Business Central
Why Choose Cloud ERP with Dynamics 365 Business Central?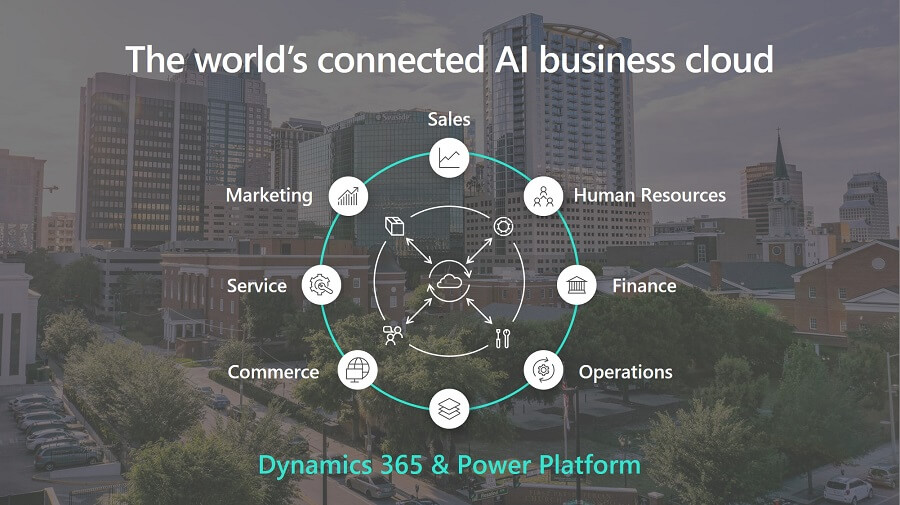 The advancements of cloud computing enable customers to make measurable business improvements that impact the experiences you can provide to your customers and your internal teams and your bottom line.
Microsoft Dynamics 365 is providing customers with the next generation of ERP and CRM capabilities on a connected and trusted cloud platform to help you keep pace with the rapid rate of technology advancements The Microsoft cloud offers unprecedented business value and growth opportunities for your business.
Businesses in Malaysia are lagging behind their enterprise counterparts when it comes to cloud adoption. With the new year (and new decade) fast underway, a recent Microsoft study showed that more than 96% of enterprises are using the cloud, compared to only 78% for SMBs.
And while the use of cloud-based productivity apps like Office 365 has steadily grown among these smaller companies, their continued reliance on legacy software in key business applications such as ERP or accounting is impeding them from competing effectively with today's top players
Given this situation, moving to the cloud should be an obvious priority for business in Malaysia, but many myths and misconceptions still exist regarding the benefits of cloud technology. Below are the ten most crucial and game-changing benefits that businesses have reported after investing in cloud solutions:
Greater profit and ROI
Lower costs and CapEx
Unparalleled business flexibility
Faster IT innovation
Seamless, automatic software updates
Cost-effective scalability
Improved collaboration and productivity
Seamless software integration
Superior security and data protection
Increased competitiveness
Customer Story – Weeks Roses
Weeks Roses improves visibility into inventory and orders with Dynamics 365 Business Central
Weeks Roses, a wholesale rose grower, migrated its systems from Dynamics NAV to Dynamics 365 Business Central to gain better visibility into their inventory and real-time access to information on mobile devices.
Business challenges:
Faced data visibility challenges are caused by multiple locations, disparate systems, and on-premises servers.
Outdated legacy systems led to business problems such as delayed invoices and sales orders versus inventory count discrepancies.
Needed better account inventory planning for annual orders that are placed six to nine months in advance, even though planning for crops happens a year or two in advance.
Business benefits of Dynamics 365 Business Central
Seamlessly integrate and update hundreds of thousands of sales orders, inventory lists, and shipping reports into Business Central.
Fast return on investment
By providing greater visibility, Business Central empowers Weeks Roses to reap the benefits only one month post-migration – including streamlined processes, greater security, and more transparent operations. A cloud-based system allows employees to work remotely and securely access their data.
Read the full story here.
Additional Success Stories:
Read Farnam Street Financial's full story here.
Read Super League Gaming's full story here.
Read Wild & Wolf's full story here.
Dynamics 365 Business Central Offer for Existing Customers
Dynamics GP, Dynamics NAV, or Dynamics SL on-premises customers with an active Enhancement Plan subscription can renew Enhancement Plan through CSP to reduce capital spending by spreading payments monthly instead of paying the annual lump sum. You will have your licensed users for Dynamics 365 Business Central (Cloud) when you are ready to migrate:
Pay for and license Dynamics 365 Business Central (Cloud) users on a monthly basis at the same total amount as your annual Enhancement Plan with a 60% discount on the Business Central Cloud users.
Allows for dual-use right and downgrade rights to your Dynamics GP, NAV, or SL on-premises version. You can continue to use your current on-premises application while you transition to your Dynamics 365 Business Central (Cloud) solution and get full Enhancement Plan benefits with the offer for your current on-premises application.
You need to license Dynamics 365 Business Central (Cloud) users at a minimum to the same price as your annual Enhancement Plan. 1-year subscription with a two-year auto-renewal option.
Learn More
To learn more about the current migration offer to Dynamics 365 Business Central, you can contact us to further discuss how Agile Dynamics Solutions can help you upgrade your current Dynamics GP, NAV, SL, and AX.
Please note this offer is only for Dynamics customers, but if you are not current Microsoft Dynamics customers and are interested in learning more, please contact us today.
https://adynamics.com.my/wp-content/uploads/2020/10/migrating-dynamics-to-dynamics-365-business-central-in-malaysia-and-singapore.jpg
734
1306
Eduard Dziak
https://adynamics.com.my/wp-content/uploads/ADS-Gold-Microsoft-Partner.png
Eduard Dziak
2021-05-10 15:10:00
2023-05-22 14:19:02
Migrating Dynamics to Dynamics 365 Business Central in Malaysian – Should You Consider It?