How to Evaluate ERP System for Your Small and Medium Business: Step-by-step Guide for Malaysia
From reactive to proactive: what this mindset means for your accounting and operations.
As your company grows, basic accounting software can start to hamper your productivity—those familiar tools ultimately limit your ability to realize your potential. Ignoring change is a natural reaction. Change is uncomfortable and foreign.
Those oddities make us nervous, so we step back, pretend like nothing is happening, and react as needed. But, when we shift mindsets from reactive to proactive, we can capitalize on those changes and address growing needs in a way that creates a competitive advantage and builds toward future success.
So, in the article, we will look at how you can evaluate a new ERP system for your Malaysia-based company. Although this article was written in mind of small and medium-size businesses, even large enterprises can benefit going through this article and exercises within it.
Download our Excel spreadsheet with the forms that are included within this guide.
Preparing for Growth
From day one, your small business is constantly learning. Whether it is how to better compete in your market, what new tools and services can help support your organization, or which local utility providers will offer the best deal, every new challenge presents an opportunity to adapt your business model and better position yourself for the future.
But that does not mean learning is easy. Quite the opposite in fact—change and adaptation are uncomfortable necessities, but it is this growth that helps accommodate who you hope to be in the future.
As your business grows, you take on responsibilities and expectations that your previous operations simply were not designed to handle. At some point, the patterns, and resources you've always relied on just don't quite work like they used to.
When that time comes, they are typically three ways to manage that growth:
Ride it out: Some organizations hope to ride out those existing challenges with their current solution. If you identify with this, you may feel aimless, frustrated, or overwhelmed by this swell of new growth and hope that things will stabilize and resolve themselves.
Hire more people: While this approach is great for easing the initial strain of growth, hiring new people means providing for those individuals as well—benefits, salaries, even workspace and may not be an efficient or cost-effective solution.
Buy more tools: Here you may put together a mix and match set of services to keep your operation running. While each individual piece may work well independently, these solutions may struggle to work well together and require additional resources to manage, from backups, storage, data aggregation, management, and maintenance to training people to use those tools.
But what if there was a fourth option? What if you could take a step back and assess what you need from a holistic viewpoint?
Rethink your processes: Of these four options, rethinking your processes requires the most self-awareness. This means taking a step back and honestly assessing how your tools and operations work together.
Do they help you grow or are they struggling to keep up? By replacing your basic accounting solution with cloud-based business management tools, your organization can adopt a comprehensive solution that adapts with you.
There is a powerful opportunity in learning how to move beyond your comfort limits and manage growth with confidence. That process works in four stages.
Download Now Ebook: Growing Without Pain How Modern ERP Helps CFOs Manage Growth Challenges
Our goal today is to help you walk through these four stages and find the right accounting solution for your unique circumstances. Let us get started:
Step #1: Identify What is Your Needs
Finding your ideal accounting and financial management solution starts with you.
What is important to you?
What do you expect out of your accounting and financial software? By identifying what you want and, perhaps more importantly, what you need, you can better pinpoint a solution that meets your long-term goals.
What do you need from your ideal accounting solution?
Check the appropriate box. On a daily basis, I need my accounting software to: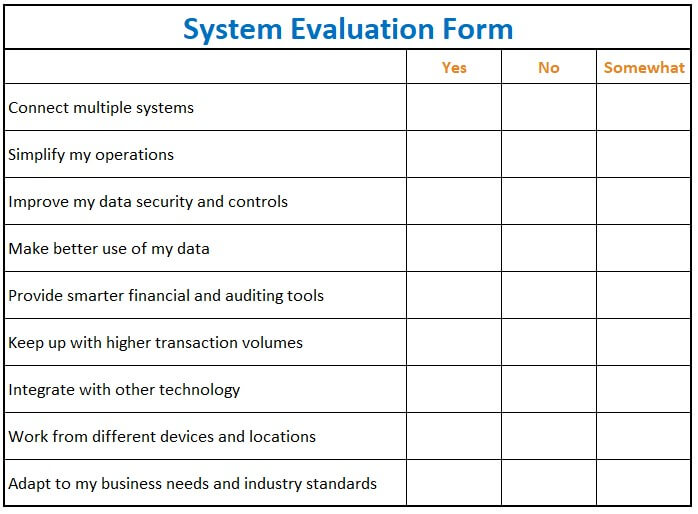 Now, list some of the goals you have for your business moving forward.
Do you want to open an online store? Perhaps you are considering going public, acquiring a competitor, or just want to simplify your IT responsibilities. What do you hope to accomplish as an organization over the next five years?
After that, consider how your ideal accounting financial management solution would help you achieve those ambitions. For example, if you are aiming to land a new round of funding in the next few years, then your ideal solution might consolidate your financial data, and use that information to create accessible reports that show your previous success and future growth trends:
Fill in your own goals on the list to the right. We have added a few ideas to get you started: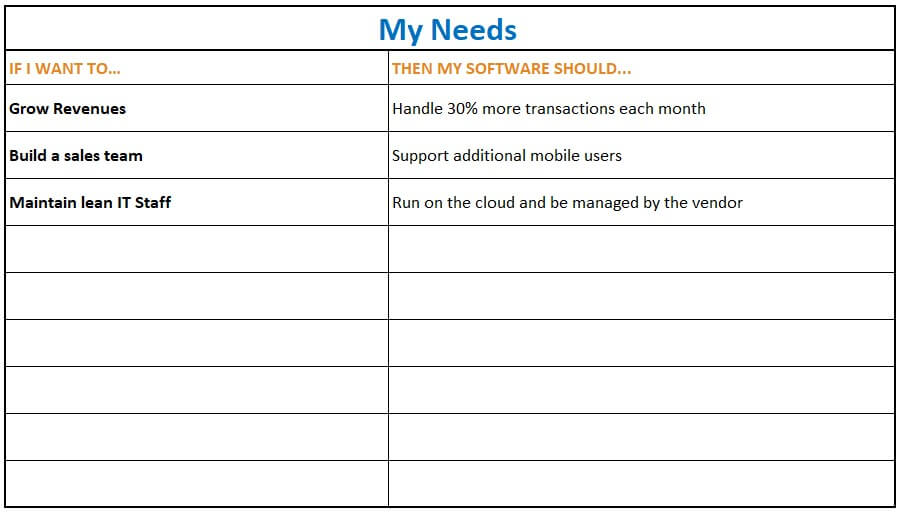 Many small business leaders struggle with their own limitations.
Part of sustaining growth is being honest about what tasks you can handle, and which you would be better served passing off to someone else. Sometimes this can mean hiring an expert or a contractor, but it also means finding tools that can automate many of your daily tasks.
Now that we know what you want, let us look at how you can get there.
Learn some of the ways that digital transformation is changing the growth paradigm and Forward-thinking CFOs, however, use growth as an opportunity to re-evaluate their company's approach to ERP. Download the Ebook Now
Step #2: Discover the tools to help you get there
When it comes to accounting solutions, the entrepreneurial encyclopedia Founder's Guide breaks your options down into three main categories:
Database accounting software
Installed accounting software
Cloud accounting software
A database accounting software solutions, like Oracle and Microsoft Dynamics 365 for Operations, Enterprise edition, have historically been the go-to accounting solutions for multi-million dollar corporations.
These immense systems are designed for banks and top-end enterprises with extremely complex accounting needs and require a significant financial investment to set up, manage, and maintain. Accounting software like QuickBooks works nicely for small businesses with simple accounting needs. It's easy to use, but difficult to customize, distribute, and integrate.
Finally, a cloud accounting system and financial management software connects your financial needs to an online service provider and makes your data accessible to your team from nearly any location or device. Cloud accounting tools are certainly a change, but they can also open up a new world of efficiency, productivity, and security.
According to Deloitte research, SMBs that use an above average number of cloud services grow 26% faster, and are 21% more profitable (on average) than those that use no cloud tools.
When choosing your ideal accounting solution, this stage all about meeting those needs and goals that we discussed earlier. If we look solely as the size of your organization, there is a good chance that cloud accounting software is the most suitable solution for your needs.
With the rise of cloud computing and software as a service (SaaS) solutions, organizations of all sizes can benefit from mobile, secure, and scalable technology without making huge investments in on-premise servers.
Cloud tools equip small businesses with enterprise-grade resources to lighten the load of managed IT and simplify their day-to-day operations. Yet, many companies hesitate to transition from their own on-premise servers and solutions.
To help ease those potential concerns, here are then reasons to consider the cloud ERP system:
1. Keep your data safe
With cloud services, you get more than just storage; you get security. Not only do cloud solutions feature built-in redundancy to make sure your data's backups have backups, you also leverage your cloud partner's security investment—millions of dollars that someone else has paid to ensure your data stays safe
2. Connect your people, processes, and data
Get ahead of the competition with united, adaptable, and stable solutions that work together to connect your teams and streamline your operations.
3. Gain a complete picture of your business
By integrating your accounting data into a cloud solution, you can get real-time analytics and reporting to create an accurate and up-to-date picture of your organization's habits and trends.
4. Improve cash flow
Cloud services typically operate on a monthly, per user license, so costs are predictable, and limited to your needs. Pay for what you need, and adapt as your business grows.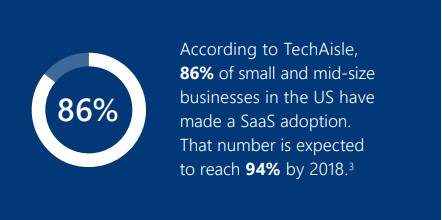 5. Eliminate hardware
Migrating to the cloud presents the chance to unload on-site servers, free up hard drive space, and eliminate the need to monitor and maintain those tools. That means fewer IT expenses, less administrative oversight, and more space to grow.
6. Reduce IT concerns
By removing your server responsibilities, your IT team can focus on more value-added tasks like onboarding new employees and expanding your services.
7. Simplify mobility
Cloud access controls mean your team can securely work from home or in the field with the full capabilities of an on-site employee. With the cloud you can manage quotes, orders, and projects from nearly anywhere.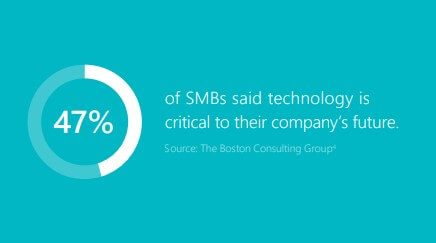 8. Get started fast
Because cloud solutions are managed by your partner, there's no hardware to set up or software to install—you can get started on day one.
9. Save time and money
Merge bookkeeping, inventory, sales management, and other tasks into a single solution that makes previously time-intensive responsibilities more efficient.
10. Scalability
For a growing business, the flexibility to pay for and use only what you need provides peace of mind that you'll always have the right service at the right time.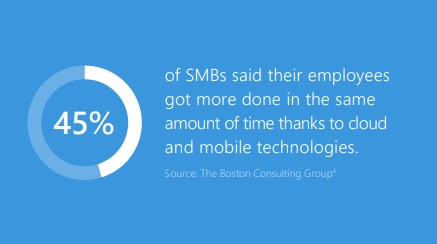 Step #3: Find the solution that's right for you
The next step when you are choosing the best ERP for SMB in Malaysia Evaluate your vendor as a partner. How do their services align to those goals you wrote down earlier?
When you weigh the different accounting solutions that are available, it's important to find a reputable vendor who is willing to support your adoption through training and education.
Can they quickly assimilate with your operations and articulate how their service will help support your goals?
It can be tough to know exactly what to ask your sales representative as you explore potential accounting solutions. Here are a few places to start:
You cannot grow and keep your records on paper. You need to make one voice and have one place where you keep all that information.
Once you have assessed potential ERP systems and vetted potential changes, now it's time to compare your options.
Rate each vendor (1-5, 1 is bad, 5 is ideal) based on how they meet your needs in the columns below.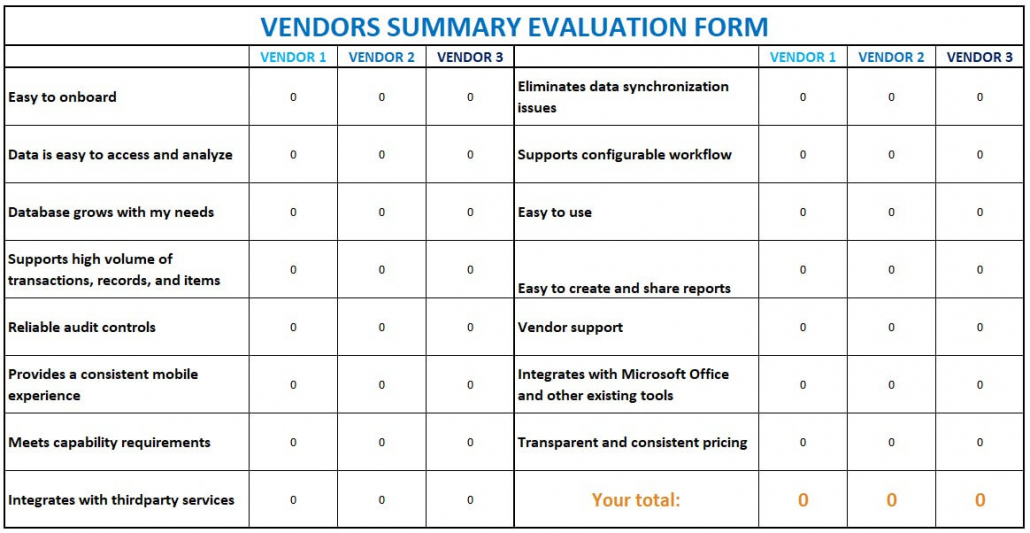 Live demos are an essential part of any decision. Ask your sales representative for a personalized demo to see how their service will work for your business.
Step #4: Put your solution into action
As you search for your ideal accounting solution, often the best approach is to try the service for yourself.
Many vendors offer free trials for potential customers, and these create a great opportunity to test run a potential solution for yourself. Keep in mind that sometimes free trials may only demonstrate a limited number of features.
To make the most of a free trial:
Define success in advance and know what you want out of the experience
Share that vision with the users and explain how they fit into the process
Evaluate the experience based on your goals
"Accidentally" delete something important, then follow the audit trail
Stress test the solution—import your own data and see how it performs
Once you're done, rate each solution based on your experience: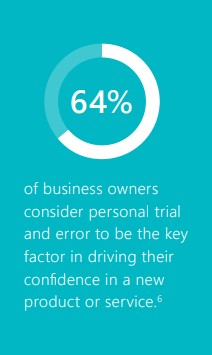 Conclusion: A checklist for success
Taking a proactive approach to your future growth is a great way to reach your long-term goals.
When you know what you need, what's available, and what to ask, wading through the ocean of available accounting software to find your perfect solution is easier than it seems. We hope these tools will help as you sort through your options and find the right tools for your unique organization.
Making the right decision for your business takes time, but you can grow with confidence when you:
Know what you want
Discover what tools are available to help
Find what's right for you
Put your solution into action
To learn more about Microsoft's solution for small business owners, check out our solutions Microsoft Dynamics 365 Business Central, Microsoft Dynamics 365 Sales or Microsoft Dynamics 365 Customer Service.
If you want to learn more, contact us and ERP and CRM specialist will provide you with more information or personalized demo.
Growing Without Pain How Modern ERP Helps CFOs Manage Growth Challenges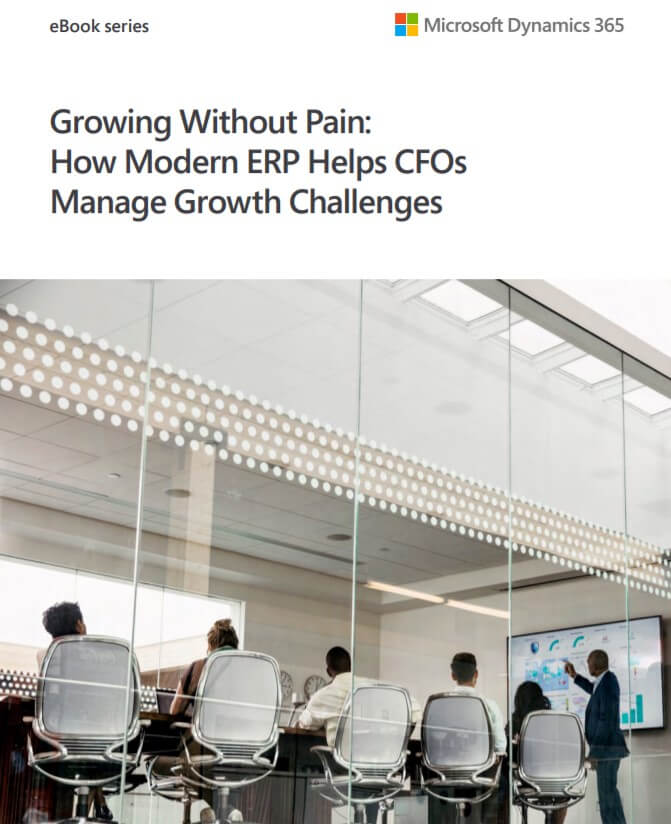 Related Articles:
https://adynamics.com.my/wp-content/uploads/2021/02/erp-vendors-summary-evaluation-form-how-to-evaluate-erp-system-malaysia.jpg
602
1164
Eduard Dziak
https://adynamics.com.my/wp-content/uploads/ADS-Gold-Microsoft-Partner.png
Eduard Dziak
2023-01-04 09:21:00
2023-05-22 14:15:58
How to Evaluate ERP System for Your Small and Medium Business: Step-by-step Guide for Malaysia