Let's have a closer look at Dynamics 365 Benefits that your business in Malaysia or/and Singapore can benefit from and how other businesses have transformed with Microsoft Dynamics 365 ERP and CRM systems to become more competitive, efficient, and reduce costs.
With Dynamics 365, you can connect your people and processes together to increase your business efficiencies and save costs. Read more to see all the benefits of Dynamics 365.
Dynamics 365 is the only ERP and CRM system that provides everything your business needs to digitally transform from collaboration and productivity business applications, business management applications to secure cloud infrastructure.
DOWNLOAD EBOOK: THE TOTAL ECONOMIC IMPACT OF MIGRATING MICROSOFT DYNAMICS IN THE CLOUD
Microsoft Dynamics 365 ERP and CRM applications are one of the leading ERP and CRM providers in the world that is also available for purchase in Malaysia and Singapore by certified Dynamics 365 ERP vendors.
Recent studies conducted by independent researchers such as Nucleus Research recognized Microsoft Dynamics 365 as a Leader in their ERP Technology Value Matrix in June 2020 in which they assessed more than twenty Enterprise Resource Planning (ERP) solutions on functionality and usability.
Dynamics 365 is gaining popularity among businesses as a preferred choice of ERP or CRM system around the globe including Malaysia and Singapore as Dynamics 365 and Microsoft Cloud help transform business process automation and people productivity.
So let's discover what benefits your Malaysian or Singaporean company can get when you will choose Microsoft Dynamics 365 as your ERP and/or CRM system.
If you want to learn more about how Dynamics 365 impact your business and what cost benefits Microsoft Cloud brings, download our ebook to learn more. Ebook: The Total Economic Impact™ Of Migrating Microsoft Dynamics CRM To Dynamics 365 In The Cloud
Here are just some of the benefits of Dynamics 365 Benefits:
1. Keep Your Business Growing Efficiently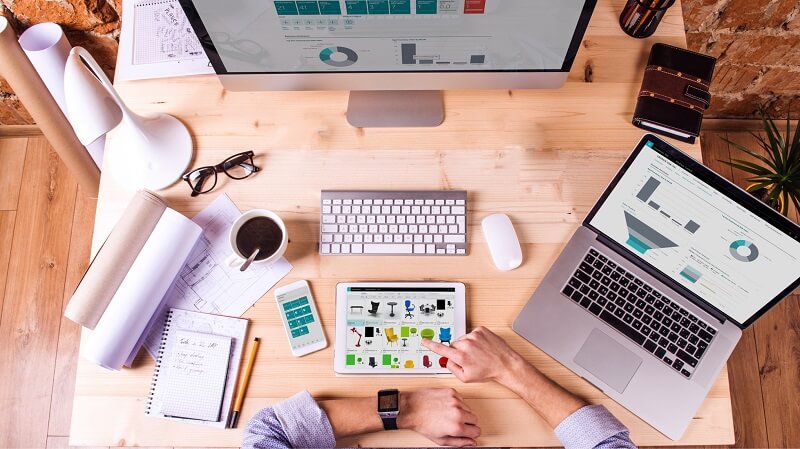 Do not let technology limitations stand in the way of growth. Microsoft Dynamics 365 efficiently and cost-effectively scale as your needs change or business grows.
Quick to implement, easy to use, with the power to support your growth ambition, Microsoft Dynamics 365 provides a seamless experience across applications and devices—start with what you need today and easily adapt as your needs change.
No matter how you access and use your systems—anywhere, anytime, across your devices—you will receive the same seamless experience and enterprise-grade security to protect your business and customers. Microsoft business solutions are designed to get you up and running quickly and help you grow efficiently as your needs change.
Businesses around the world are seeing the benefits of helping employees work smarter together, automating cumbersome manual tasks, and using customer data as a factor in deciding what to offer.
Cloud and mobile solutions are becoming a means of transforming business processes and enabling new workflows.
Replacing existing systems may seem daunting, complex, and too significant an interruption. With today's modern applications in the cloud, the rewards far outweigh the risks. Increased efficiency, enterprise-grade security, and increased mobility—all without up-front capital expenses and with less dependency on IT infrastructure—make it easier for businesses of all sizes to use technology as a competitive advantage.
2. Automate and easily adapt business processes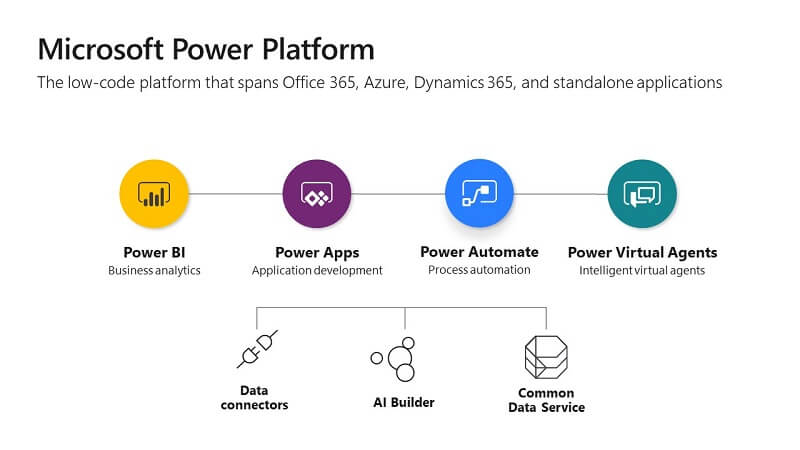 Simplify your finances, streamline your supply chain, manage your sales teams, and make confident decisions that expand your business, not your budget. Be productive from the start with a familiar and role-based user experience to support growth without added headcount.
Improve productivity and get more done with easy-to-create workflows, audit trails, and enterprise-level security. Connect workflows across sales and accounting to automatically track cash flow. Secure purchasing, credit authorization, and vendor payment processes with pre-defined alerts and approval workflows.
Repetitive tasks should be automated to free up employee's time and improve employee efficiency so they can focus on more important business tasks such as focusing on your customers.
With Dynamics 365, Power Apps, and Power Automate you can easily streamline and automate repetitive tasks through low-code apps and process automation. Therefore increase your business efficiency, lower costs while increasing revenue per employee, and quickly adapt to changing business needs.
Core approval workflows for purchase documents, sales documents, payment journals, customer cards, and item cards are ready to start as an assisted setup. Secure purchasing, credit authorization, and vendor payment processes.
For example, when a record, such as a purchase document or a customer card, needs to be approved by someone in your organization, you send an approval request as part of a workflow. Based on how the workflow is set up, the appropriate approver is then notified that the record requires their approval. You can also set up a reminder approval workflow for overdue approval requests.
Ebook: The Total Economic Impact™ Of Migrating Microsoft Dynamics CRM To Dynamics 365 In The Cloud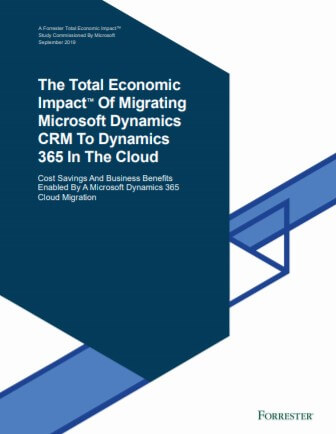 3. Get up and running quickly
As for many businesses, modern and flexible ERP and CRM systems are essential to successfully run their day to day operations. And while implementing business applications can be a complicated and disrupting process for business, Dynamics 365 is quick to implement and easy to maintain.
Setting up services and migrating historical data takes days, not weeks, and with a familiar user experience across all your devices, your team will be productive from the start.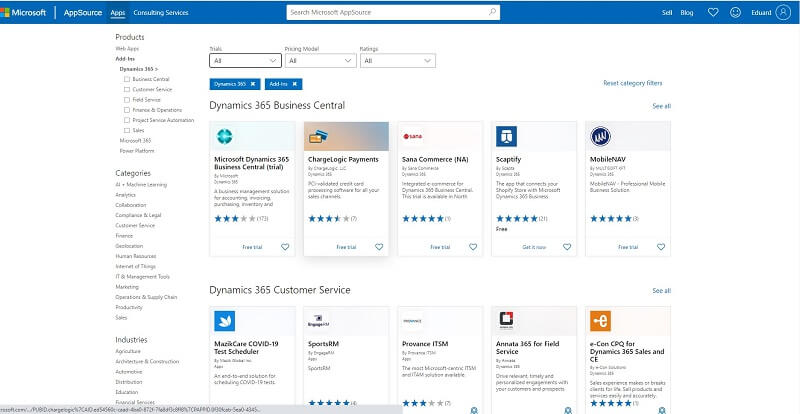 Dynamics 365 ERP and CRM applications are designed to be easily implemented for any size and type of business across industries and quickly scale when needed to enable organizations to accelerate Dynamics 365 implementations and go-live with confidence.
4. Manage your business, not your servers
Running your business applications in the cloud means reduced upfront software costs and no costly on-site servers to manage, plus you can add or remove users as your team changes giving the flexibility your business needs to quickly adapt to any ups and downs.
With Dynamics 365 in the Cloud, you are still in charge of your data enabling your IT team to focus on what is important for your business as your team does not need to manage the physical server as everything is done by Microsoft experts.
Rather than dedicating operational headcount to manual tasks, grow capabilities by automating business processes, and repurpose your team to focus on more strategic projects.
5. Improve Customer Experience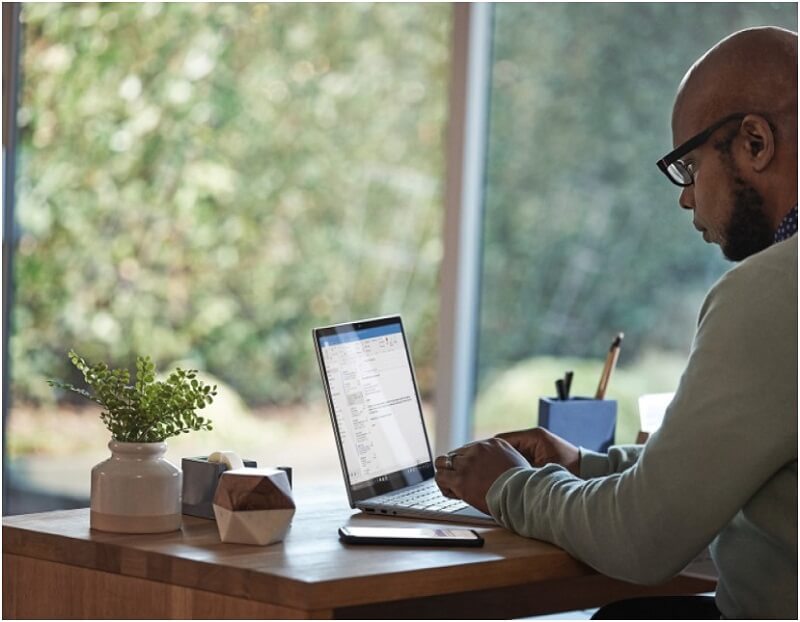 What if you could anticipate what your customers want? Modern digitally savvy customers are expecting brands to resolve issues instantly and predict current and future needs.
Connecting with your customers on their terms is crucial for winning the deals, whether it is on the website, social media, phone call, or in-person meeting, customers expect that the communication remains consistent.
Microsoft Dynamics 365 helps you gain deeper customer insights, manage, and grow sales, and maintain profitable, loyal customer relationships.
With Dynamics 365 you can connect with your customers and streamline the communication across many channels to deliver seamless and consistent communication.
Dynamics 365 provides powerful capabilities to stay ahead of your competitors by providing a unique and great customer experience.
6. Get 360-degree customer view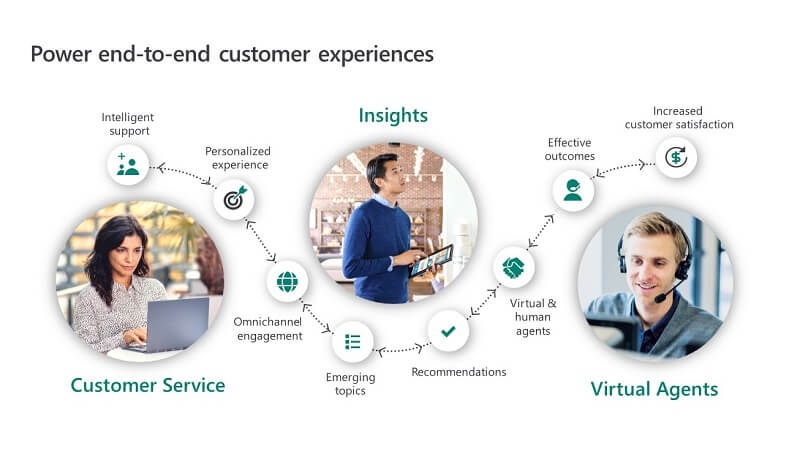 Your customer data are a valuable and sensitive asset to a company that needs to be protected and at the same time effectively stored and shared across the company to make informed and fast decisions.
And you have been compiling years of data on your customers, even without realizing it. Every time your customer land on your website, fills up a form, downloads an eBook, likes your post on social media, or in any way interacts with your brand, it leaves data behind that can be collect and analyze.
Dynamics 365 connects your people and processes with unified and flexible ERP and CRM software so data can be quickly and easily shared with key people throughout your company.
You have access to the most current, accurate data so you're making the most informed decisions possible.
For example, the second a sales rep in the field makes a change to a customer quote, it gets reflected in the numbers being pulled for a forecast report back at the office. With more accurate information at your fingertips, decisions have a bigger impact on the bottom line.
With Dynamics 365 you can see and analyze all your customer data in one view, you can spot winning sales tactics, fix the broken processes, decrease your sales cycle, driving more qualified leads, and close more deals.
Whether it is current cases, buying history, or previous communications, making this detail readily available to your team means more personalized, targeted interactions that lead to results.
7. Stay Focused on Success
As customer expectations are growing marketing and sales teams must work together to improve bring more opportunities and close more deals.
Download Ebook: The Benefits of Aligning Sales and Marketing
By aligning marketing and sales teams and connecting customer interactions between these two departments your marketing can create a single view of prospects and unify data across contacts, leads, and customers and identify the target, and close top accounts with personalized, account-based content, and nurture activities.
Aligned marketing and sales departments increase productivity and improve coordination between marketing and sales with journeys that automatically hand off sales-ready leads and drive follow-ups.
Sales teams can increase conversion and win rates with lead and opportunity scoring based on advanced scoring models for the likelihood to convert and buy.
The relationship health score and other related metrics calculated based on Dynamics 365 and Microsoft 365 data help sellers get a pulse on the overall health of each customer. This helps sellers focus on the overall health of the relationship, not just the deal-specific, transactional aspects. Again, this helps sellers deliver on the buyer expectation for a relationship-based engagement.
So as a result of Dynamics 365, you can find the most promising leads with data-rich, interactive dashboards that help track your most active customers and uncover new sales and service opportunities. Guide your team with role-specific workflows and familiar processes built around sales best practices. And use data and insights to customize and enhance sales presentations for more impact.
8. Do Business Anywhere and Become More Mobile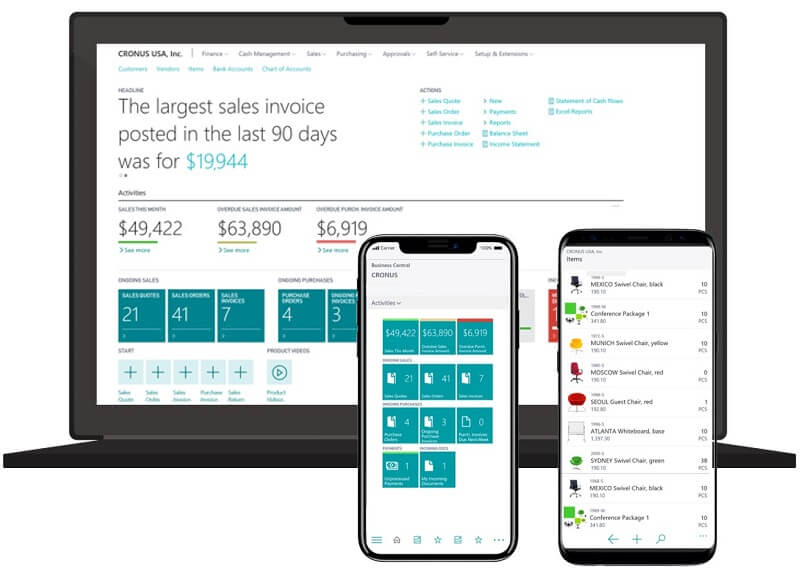 Accessing and working with data from anywhere increase business efficiency and lower costs. 84% of growing businesses feel that mobile technology has positively affected their company's productivity. Therefore, Cloud with Mobile access is essential to run a business.
Dynamics 365 ERP and CRM Applications with Mobile technology help you get more done in the office or on the go with enhanced, secure access to tools and data across all your devices whether you are in Malaysia, Singapore, or anywhere around the world.
One of the features that makes Dynamics 365 unique—there are no compromises with the mobile experience. Often, mobile versions do not provide the same rich functionality. Dynamics 365 supports all mobile experiences equally.
Your people get the same desktop capabilities and experience on Windows, iOS, and Android platforms, using their device of choice. Essentially you can run your business from any platform with a consistent user experience from desktop to the smartphone with the latest high-level security features built-in.
9. Bring your office with you
No matter what devices your team uses or where they need to work, they can stay connected to key business data like customer details, product information, and order status to deliver better customer service. And with a consistent user experience and single sign-on across the calendar, email, files, collaboration tools, and business processes, getting to the data you need quickly is simple and intuitive.
10. Respond at the speed of business
With virtually anywhere, anytime access, and the ability to track presence and instantly message team members, you can connect, share, and collaborate in real-time and get answers right when you need them.
11. Safeguard your Malaysian and Singaporean Business
Your customers trust you with their data. Make sure you earn it by keeping all your systems safe, centralized, and protected while simplifying compliance, audits, and reporting.
Dynamics 365 is using the Microsoft cloud services that are delivering the most productive, hybrid, intelligent, and trusted cloud to run your business.
Azure is offered in 54 regions, more than any cloud provider.
Offers 90+ compliance industries, the largest portfolio in the industry.
90% of Fortune 500 companies run on Azure.
For Microsoft trust is everything and keep customer data safe is a big part of being trusted and recognized as a leading Cloud ERP and CRM provider. With 1B+ USD investment in security R&D each year and 3,500 cybersecurity experts Microsoft Azure is the most trusted and secure solution for your business to keep your data safe anywhere in Malaysia, Singapore, and anywhere in the world.
In a recent study by ComScore, over 40% of small businesses were worried about data security before moving to the cloud. After making the switch, 94% of businesses reported security benefits they had been unable to achieve with their previous on-premises resources.
12. Prepare for the unexpected and mitigate risk
A proven business system from Microsoft has built-in controls and role-based business workflows that can provide structured access to sensitive information. Plus, with both physical and virtual security including access control, encryption, and authentication, you can help protect your data on all your devices.
13. Guaranteed uptime and data backup
You may not be working around the clock, but your data is always on call. Microsoft cloud solutions are reliable, scalable, and come with a guaranteed 99.9 percent uptime, so your team and customers can access information anytime. And with continuous backup across globally distributed datacentres, you've got the built-in data redundancy to help protect you from a potentially catastrophic loss.
14. Redefine business processes and reinvent productivity
You've reached a stage where customer demands drive growth, but you may not have the right tools or processes in place to anticipate buying behaviors or build loyalty.
Your opportunities could be limited by basic accounting software or stand-alone customer relationship management systems. But investing in a complete technology overhaul isn't realistic, and do you really have the capacity to add new IT staff to manage additional systems?
You need technology that enables your business: technology that's affordable even on a small business budget and doesn't restrict your future options.
Microsoft Dynamics 365 helps you move away from the complexity and silos of traditional ERP and CRM systems so you can focus on the things you enjoy about running your business and connecting with your customers.
15. Spot trends & Anticipate Demand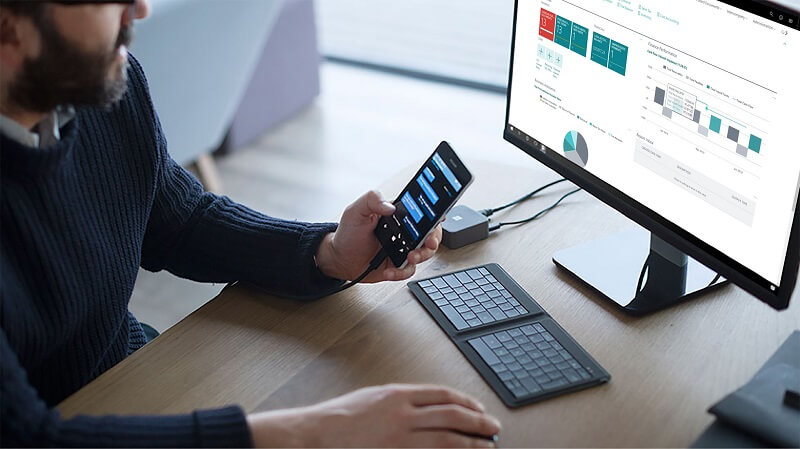 When key parts of your business are connected, your people can do more, and your business will grow. Microsoft Dynamics 365 can help connect the pieces of your business and reveal insights about your customers, operational processes, and your best path for growth.
Learn how TBM is using Dynamics 365 to Spot Trends and Anticipate Demand.
Imagine the time and cost savings if your IT department could use real-time operational data to help your people make better decisions and serve customers more effectively.
By connecting customer relationship management and back-office processes, operations can anticipate increased demand based on sales forecasts. Your finance team can monitor sales and expenses in real-time for a realistic view of cash flow.
And customer-facing teams are armed with a complete view of customers to help them jump on new sales opportunities and improve customer service.
17. Be Ready for Ups and Downs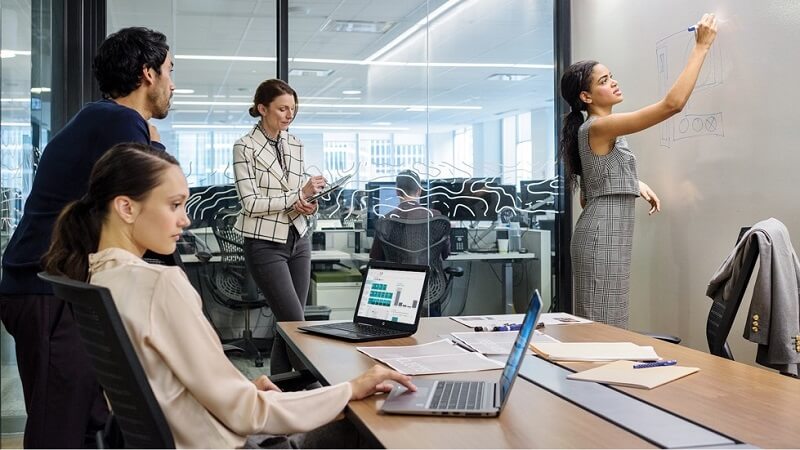 Get the freedom, to begin with, the applications you need, and add new solutions at your pace. Using flexible applications and a scalable database means rapid business changes lead to more opportunities.
Growth stays positive and builds business momentum. Exactly what you would expect when your business runs securely on the Microsoft Intelligent Cloud.
Microsoft Dynamics 365 is a powerful flexible platform that helps your business run at the pace of change, connecting your people and processes like never before.
Start with what you need and grow at your own pace to run your entire business in the cloud. Easily import data from other solutions using data migration wizards and assisted setup.
Get contextual guidance with in-product tutorials, when and where you need it. Handle the most common business processes from day one, like quotes, orders, invoicing, purchasing, cash management, and reporting. It's built in the cloud, so it's easy to set up, manage, and scale.
Key takeaways
Microsoft Dynamics 365 brings together business applications, data, documents, and devices—with one unified user experience that provides greater control over your finances and operations while delivering the insight you need to build and maintain customer relationships.
Dynamics 365 boosts your productivity, improves customer insights, frees you to work anywhere, anytime, across your devices, and positions your business for growth.
Gain even more benefits when your solution is deployed on Microsoft Azure, including more flexibility, the lower total cost of ownership, security-enhanced anywhere access, and enterprise-grade infrastructure and support.
What Next?
To get Dynamics 365 free demo or more personalized information based on your needs, get in touch with us, so we can help you to choose your ERP and/or CRM system to maximize your ROI from your investment.
We are leading Microsoft Partner in Malaysia and Singapore that provides Dynamics 365 CRM and ERP applications. With over 30+ years experience, the largest customer base and 100% implementation success rate we are the most experience partner on local market to ensure your project is successfully implemented.
Therefore, use one of these links to get your personalized approach and learn more about Dynamics 365.
Get Free Personalized Dynamics 365 Demo.
Request for More Information about Dynamics 365.
Contact us for other inquiries.
Related Articles
Sources:
Ebook: The Total Economic Impact™ Of Migrating Microsoft Dynamics CRM To Dynamics 365 In The Cloud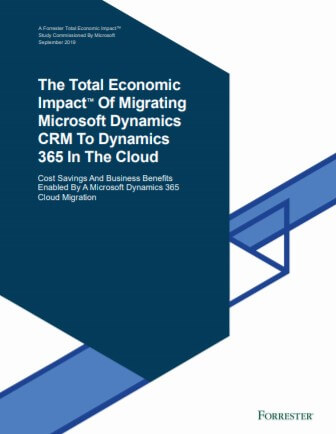 https://adynamics.com.my/wp-content/uploads/2020/11/Dynamics-365-Benefits-17-Advantages-of-Having-ERP-CRM-Systems-in-Malaysia-and-Singapore-from-Microsoft.jpg
734
1306
Eduard Dziak
https://adynamics.com.my/wp-content/uploads/2021/08/agile-dynamics-solutions-gold-microsoft-partner-dynamics-365.png
Eduard Dziak
2021-05-10 11:35:00
2021-08-13 16:14:45
Dynamics 365 Benefits: 17 Advantages of Having ERP & CRM Systems in Malaysia and Singapore from Microsoft