Are you learning about the ERP system? Our ERP guide will teach you what is ERP system and why you need it. Also, you learn how ERP system works, why businesses are implementing ERP systems, and more. Keep reading.
ERP systems are one of those pivotal, game-changing facets of running a digital business that nearly every business needs to not only know about it but implement successfully for their own business to quickly adapt to the new normal and maximize resources and assets of the company.
Download Now: Modular ERP: The Key to Corporate Agility [Free Microsoft Ebook]
But what does it all mean, and how does it all come together to deliver the kind of results that matter to your bottom line and entire business? Better yet, how can you centralize, automate, empower, and save costs so that your business runs more efficiently? Let's take a closer look:
What is ERP System?
ERP is an acronym that stands for Enterprise Resource Planning applications. It is a business process management software that integrates the management of main business processes:
Financials
Supply Chain
Reporting
Manufacturing
Human Resources
Project Management
Sales
Often these business processes are connected in real-time to help a business get accurate and current information about their business.
Typically, ERP systems provide modules or a suite of integrated applications that an organization can use to collect, store, manage, and analyze data from many business actives to get a single source of truth.
Do you want to bring something with you and read on our convinience? Microsoft has prepared an ebook for you to download for free and learn more about ERP system. Download now ERP System ebook for free.
Why is ERP Software Important?
As more businesses are moving towards digitalization ERP system plays a vital role to help businesses with their data management and successfully digitalize their business operations.
ERP helps with removing disconnected systems with information siloes which leads to poor and inaccurate reporting that can result in inaccurate business decisions, Also ERP provides better options around scalability and mobility to remove the limitation of business growth.
Because businesses are wasting too much time dealing with multiple systems that can't talk to each other. According to Forbes, most workers toggle between apps up to 10 times every hour, which means that companies are losing up to 32 days of productive work per employee every year.
Data has become the new currency, and organizations create and have access to more of it, and faster than ever before. The challenge is how to transform it into intelligence that generates action and drive outcomes.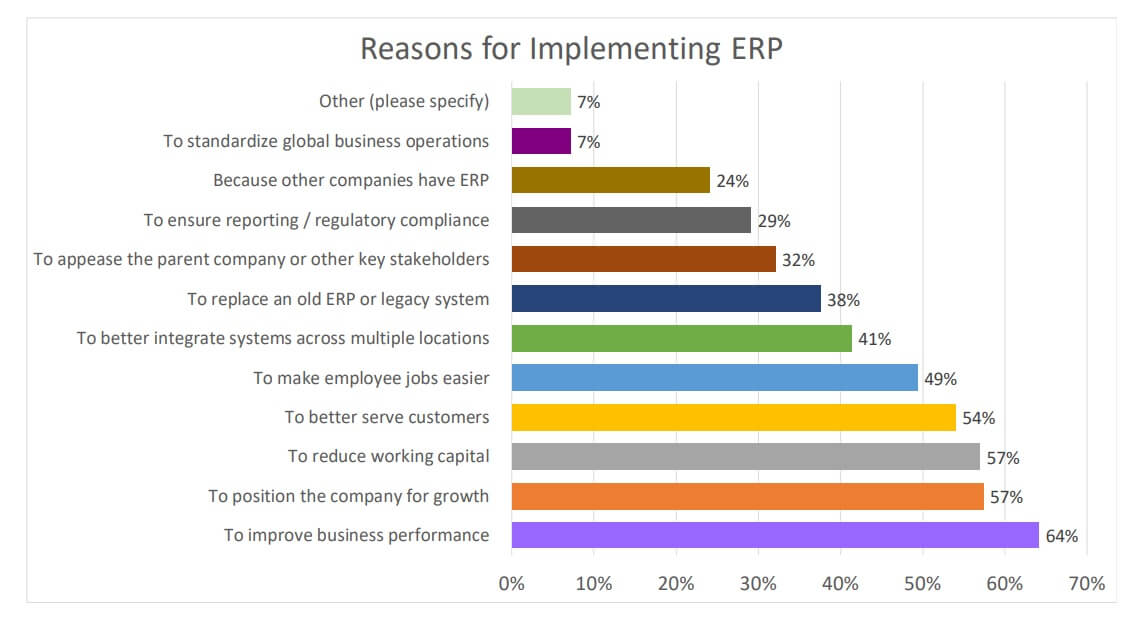 (source)
Enterprise Resource Planning systems will allow organizations to adopt business apps to streamline their business processes, automate repetitive tasks, increase collaboration, reduce costs and with real-time business intelligence analytics business leaders can transform data into intelligence and make informed decisions faster. This will help proactively guide employees & customers to generate optimal outcomes.
ERP applications are important to be embraced since the beginning when growing businesses have outgrown existing accounting software to quickly help adapt to business growing demands such as connecting their business and make smarter decisions.
Also, modern ERP systems allowing organizations to get up and running faster, along with the requirement to expand the solution as their needs grow.
Challenges that ERP System Removes
Companies are facing numerous challenges that can be holding them back and to tackle some of the challenges, businesses have moved their data into the ERP system to solve them.
Businesses can often outgrow their basic accounting software or legacy ERP systems that are unable to handle increased inventory and transactions, lack integration with other line-of-business systems, and have reporting limitations. Organizations also feel pain around scalability, mobility, and cloud.
Take a minute to identify if your existing systems have what it takes to make the most of new opportunities.
Here are signs that your current solutions will not be ready to handle additional growth.
Systems are disconnected and information is siloed
Duplicate data entry into multiple systems is a daily routine
Accounting occurs in Excel, not your financial system
Reporting is complicated and provides insufficient information
Lack of secure workflows and audit trails increase risk
Inability to handle increased inventory and transactions
These are common challenges that can be solved by unified ERP systems.
Stats from Nucleus Research identify top reasons why SMBs adopt a new business management solution and these maps very well with the pain points that we gathered from our customer research. (Source)
Modular ERP: The Key to Corporate Agility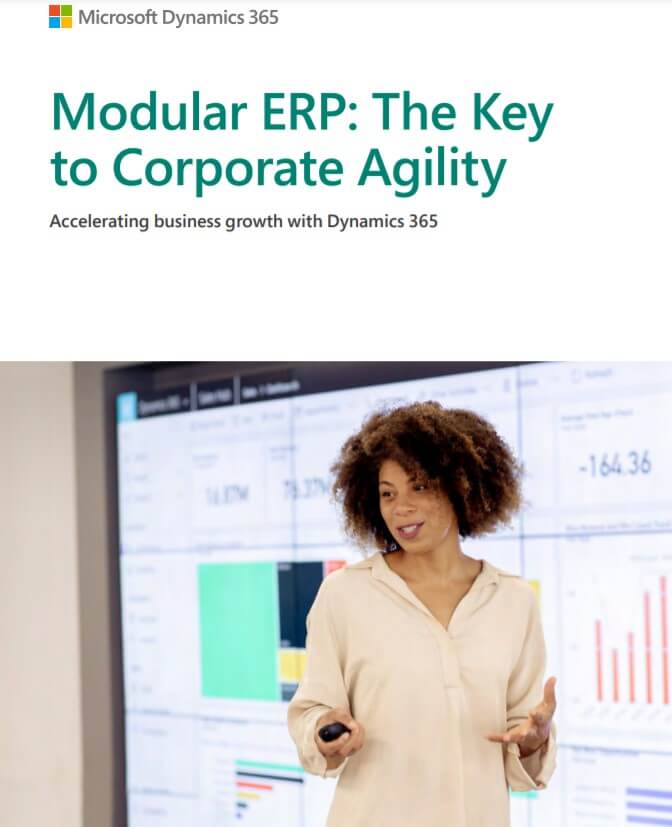 9 Key Features of ERP System
While there's no all-up solution software for every business process that can bring the exact features your business might need there are definitely plenty of options you can choose from.
And ERP technology is getting better and better at bringing all your business processes together to improve collaboration, help your company make data-driven decisions, and advance business productivity.
Enterprise resources planning systems are among the most comprehensive solution for businesses to manage their daily operation tasks effectively and efficiently to minimize human errors, increase productivity, increase profit, and reduce costs.
And to allow such possibilities, modern ERP systems provides a set of powerful features and that makes ERP system an ideal solution for any business that wants modernize their operation.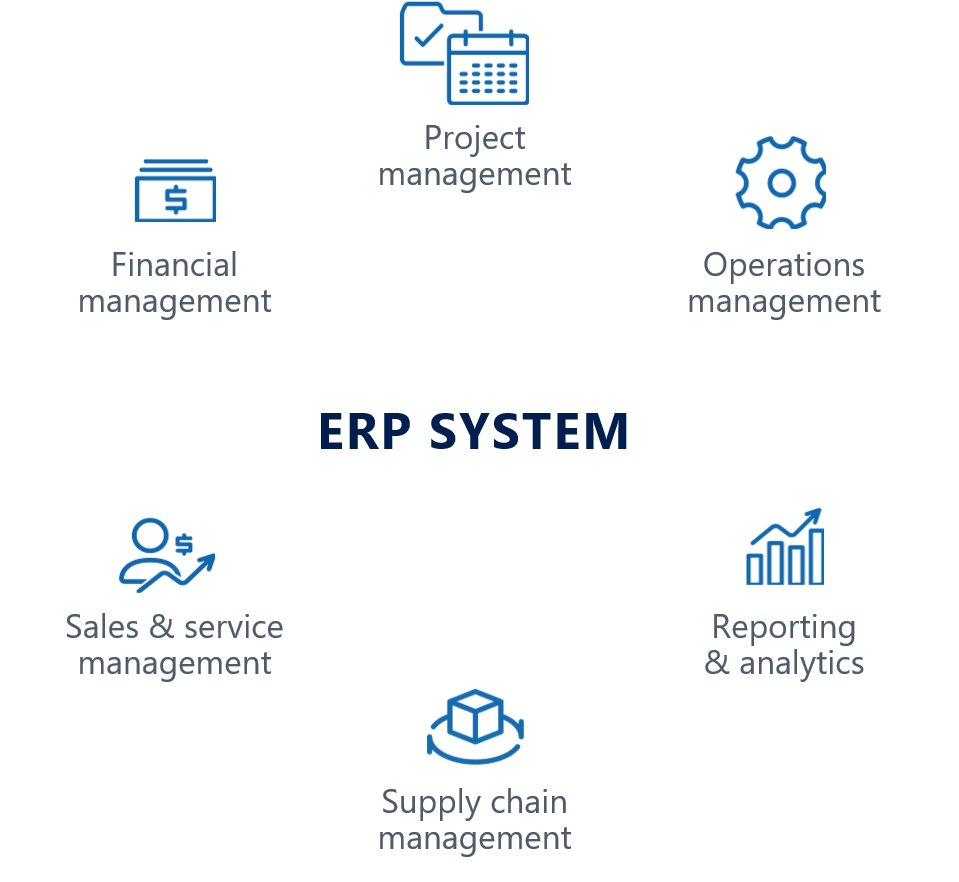 So, let's discover the key ERP features your business should evaluate when searching for an ERP system in Malaysia and Singapore.
Integration with CRM and Other Business Apps
Business Intelligence Analytics
Automation and workflows
Reporting
Financial Management
Accounting
Supply Chain Management
Human Resources
Manufacturing
Of course, your business may not use all of these features therefore customizable and comprehensive ERP system is very important to match your business needs especially for those that have outgrown their entry-level accounting solutions and searching for a business management solution that can connect core business activities such as Sale, Finance, Project Management, Operations, Supply Chain and with accurate reporting and analytics.
Also, ERP modules-based technology is becoming very popular in Malaysia and Singapore as it allows businesses to customize their ERP solutions based on their needs and business size.
ERP System Benefits
While implementing Enterprise Resource Systems is a complicated and disrupting project for companies to undertake it provides many advantages that can boost business earnings and get up to 2x the profit.
As research suggests ERP improves 95% of businesses that implement it and ERP implementation led to business process improvement for 95% of businesses. (Source)
Therefore, for many organizations, ERP systems are on top of the list when deciding what business solutions, they should invest in.
Because whether you are a small or large company there are not many solutions that can provide great benefits like ERP can do.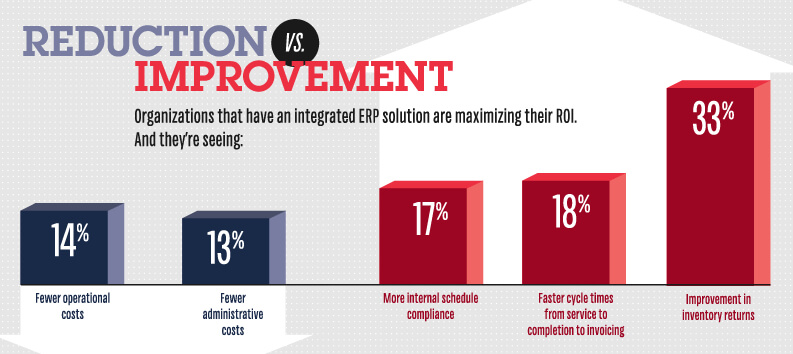 (source)
So, let's look at some of the most profound ERP Systems benefits that businesses can benefit from when the ERP system is implemented:
Reduce process time
Increase collaboration
Centralize data system
Cost savings
Improve performance metrics
Improve efficiencies
Reduce IT costs
Reduce inventory levels
Reduce cycle time
These are the ERP benefits that are important for businesses when implementing an ERP system and as everything is becoming digitalize and automated, more and more opportunities ERP systems bring to improve company outcomes, increase profit and reduce costs.
Read more on ERP Benefits for Malaysian and Singaporean SMB.
Who Can Benefit from ERP System?
Can your company benefit from using an ERP system or are there only a few selected companies that can use ERP systems?
We believe that each business is different and unique and that is why it is important to look at business individually and understand the business needs and requirements the company has to provide a greater response to these questions.
And while the short answer is every organization can highly benefit from using ERP software there are also important aspects that businesses must consider if they are planning to invest in ERP solutions.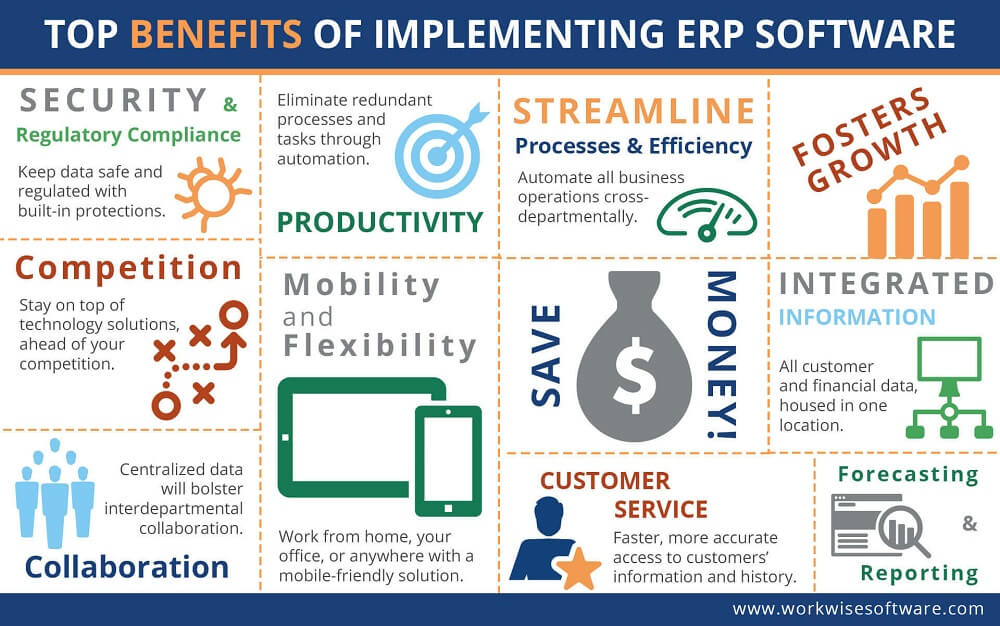 But allow me to try to narrow it for you so you better understand ERP systems and asses them on your own to determine if ERP systems are something that might help your business.
So here are the most common scenarios why businesses are choosing an ERP system and what ERP software can solve for you:
Remove Data Silos: Having scattered data across different systems, spreadsheets, and papers.
Financial disorder: If your organization struggle with financial reporting, cash flow, and financial performance.
Insufficient Reporting & Analytics: Hard to make any decision based on data without business intelligence and actionable insight.
Poor Customer Data Management: Customer data are scattered causing poor customer experience and poor decision making.
Manual Tasks: Plenty of manual tasks costing your employees a lot of time and effort. Thus cannot focus on important problems.
Collaboration Problem: Poor communication and collaboration across data, where departments do not have access to critical data.
Cost Reduction: Eliminate cost of maintaining hardware and high IT resources as server upgrades, systems upgrades and maintenance is managed by ERP vendor.
Optimising Manpower: helping you bring together, analyse, and visualise all your human resources data and improve workforce planning.
So, if you are searching to solve problems such as these, then ERP applications can be the right solution for your business.
But I have mentioned only a few scenarios and if you want to know if an ERP system is something that your business needs, you can contact an ERP vendor to help you.
Still not sure? You can contact us to get a better picture of how ERP or CRM systems can help your business.
ERP Solutions by Different Criteria
There are many different types of ERP solutions your business can choose from depending on many different factors like industry, size, needs, and specific requirements (e.g. government and industry regulation).
Because each business is unique and ERP companies like Microsoft wants to provide the most suitable solutions to each of its customers to help them make smarter decisions and take actions that drive business.
And this can be overwhelming for anybody who just started researching ERP software.
So, to help you understand the different types of ERP solutions based on different criteria, these are the most common solutions ERP types.
Also, for ERP to deliver the significant benefits of your business.
By Size of Company
The first category of ERP systems is by the size of the company. As business is growing the processes becoming more complex, extra work is required from employees, more staff needs to be hired, new departments might be open, and so on.
And while growing business is an exciting time, there will be many new challenges the company has to face. Thus, these solutions are made to tackle some of the challenges of growing companies to help businesses be more agile and better manage growth.
ERP System for Small Business: These are accounting software to save time and resources by using the ERP system to automate processes for managing finances, payroll, and accepting payments.
ERP System for SMB & SME: These solutions can help SMBs connect their financials, sales, services, and operations to streamline and secure business processes, improve customer interactions, and make better decisions. (Visit ERP System for SMB)
ERP System for Medium and Large: More complex ERP solutions help medium and large organizations to connect all business processes and departments to enable make better decisions quickly.
This is oversimplified ERP solutions by the size of the company to help you understand that ERP companies want to provide comprehensive solutions that fit business size.
But of course, there is more what each solution can do for you depending on the size of your business and your requirements.
That is why ERP systems need to be easily customized so it can better match your expectations and achieve expected benefits from the enterprise resource system.
By Industry
Industry solutions are proven to enhance business efficiencies, decrease costs, and generally are a great investment to enhance solutions even more.
Modern ERP applications come with industry-specific types to match your industry needs, support your core business processes, and creating a better and more efficient automated business.
With that customers can find customized enterprise resource planning solutions to support their core business processes without spending money on modules that are not needed within the industry.
And while there is certainly almost any industry that can benefit from using ERP software I am going to mention the 9 most common sectors:
Manufacturing: Helps Manufactures get real-time production and distribution planning, connect factories with IoT, AI, and mixed reality, and integrate the warehouse management system to increase agility, provide better business continuity, and cost savings.
Distribution: Helps to deliver visibility into your sales data, inventory levels, and shipment schedules, giving you confidence in your ability to meet customer demands and more to enhance business processes and save costs.
Retail: Helps to unified commerce across all channels encompassing sales, mobility, intelligence, and productivity to help retailers and workers achieve more in a cloud-first, mobile-first world.
Construction: Helps achieve a high level of control over construction business, both in the office and in the field with the ability to remotely communicate job hours, materials, project milestones, and more from anywhere with any device in real-time.
Healthcare: Helps providers a full, real-time insight into a patient's journey: their medical history, care plans, medication, test results, diagnosis, delivery of services, compliance with regulation, it is financial reporting, and, ultimately, its engagement with patients and their families.
Education: Helps From student and staff self-service portals, integration with financial systems, through to subscription management and higher education marketing tools, to access Cloud-based technologies for the effective management of the needs of students, staff, and partners.
Government: Helps to do more with less amidst ever-decreasing government budgets, with less amidst ever-decreasing government budgets, while enhancing trust and security for the citizens and residents they serve, improve the efficiency and productivity of my agency and employees to better meet our mission
Waste Collection: Helps coordinate all facets of their business from dispatching and fleet management to route planning and material movement tracking to save costs and time, remove repeatedly entering data into different software's. Thus, increase the efficiencies and productivity of employees and businesses.
Hospitality: Helps management and employees with the necessary tools to keep the customers satisfied, thereby ensuring repeat business. With increased flexibility, speed of service, and improved access to vital information, the LS Hospitality solutions streamline operations and reduce cost from a restaurant point of sale, omnichannel menu management, kitchen displays, or printers to tight control on inventory.
And these are the common industry-specific ERP systems, but of course, other industries can hugely benefit from using enterprise resource planning software to increase efficiencies, collaboration, connect people and products and save costs.
If you want to learn more about your industry and how ERP can help you, contact us so we can help you provide more information or a free demo.
By Needs
Most of the ERP systems are modular based which means you can choose which module is the best to fit your business needs and as your business grows you can add more as you need.
This makes it super easy for businesses to cover only business processes businesses need without spending money on unnecessary capabilities that are not needed.
Like this business can achieve even greater benefits and ROI from investing in ERP applications.
Typically, ERP modules are developed to fit the different needs of each customer and manage core business processes such as:
Finance & Accounting: Helps with main accounting and financial management functions such as general ledger, and balance sheet; generates financial reports; and handles related transactions, such as invoicing and expense reporting.
Supply Chain Management: Helps to manage procurement and supply of the goods, services, and other resources across the chain. From handling manufacturing and warehouse resources to managing transportation and execution processes, ERP solution takes care of all elements of the supply chain.
Human Resources: Helps to manage employee information, track employee records like performance reviews, designations, job descriptions, skill matrix, time & attendance tracking.
Inventory: Help to track the stock of items. Items can be identified by unique serial numbers. Using that unique numbers inventory system can keep track of the item and trace its current location in the organization.
Warehouse Management: Helps manage the storage and the movement of inventory. The system tracks the movement of every stock item such as the item received, picked, packed, and shipped.
Order Management: Helps manage all orders to the warehouse, distribution center, or retail store after customers place them and track their status as they are prepared, fulfilled, and shipped to the customer. Helps to reduce losses and boosts on-time delivery rates and determine the most cost-effective option for fulfilling an order.
Customer Relationship Management (CRM): Helps to boost sales performance through better customer service & establishing a healthy relationship with customers. All the stored details of the customer are available in the CRM module.
Procurement/Purchase: Helps with processes that are part of the procurement of items or raw materials that are required for the organization. The purchase module consists of functionalities like supplier/vendor listing, supplier & item linking, sending quotation requests to vendors, receiving & recording quotations, analysis of quotations, preparing purchase orders, tracking the purchase items, preparing GRNs(Good Receipt Notes) & updating stocks & various reports.
There are more ERP modules your business can take advantage of and digitally transform the business to increase efficiencies and save costs.
If you want to learn more about ERP modules to fit your specific needs, contact us and we will provide you will information on how an ERP system can transform your business.
ERP Solutions by Deployment
Choosing what type of ERP deployment for your business is the best can be tricky because there are so many aspects that play a vital role in deciding what ERP deployment is the best for your organizations in Malaysia and Singapore such as your industry and industry regulation, your current IT resources and plans, and how you need to customize your ERP system.
All these aspects and more must be carefully assessed by the ERP vendor so the best deployment can be chosen.
As each business has different requirements and needs and therefore without knowing your requirements it is hard to say what ERP deployment fits the best to your businesses.
But check out the three common ERP deployments commonly used by ERP vendors and see the benefits of each ERP deployment.
Cloud
And here are some of the Pros of having an ERP system in the cloud:
Predictable costs over time that can be changed based on your requirements
Data security is in the hands of the vendor. Therefore, choosing a trusted vendor is important
Offer great stability and continuous updates from the vendor as a result of less customization
Organizations can work with vendors to see what changes can be made
Typically, less time to implement
And here are some of the Cons of having an ERP system in the cloud:
May end up spending more money throughout the systems life cycle
Data security is in the hands of the vendor. Some organizations may not find it suitable
Less customizable in general
Shorter implementation times are largely a result of less customization
Hybrid
And here are some of the Pros of having a Hybrid ERP system:
The flexibility of choosing where data will be stored whether on cloud (more secure) or on-premises
the organization's workload is contained within a private cloud while retaining the ability to spontaneously increase their workload and perform the spikes of usage on the public cloud.
Cost-effective as organizations pay for the public cloud portion of their infrastructure only when it is needed.
Get a centralized private infrastructure on-premises.
Workloads get on-premise computational efficiency which ensures maximum workload management.
And here are some of the Cons of having a Hybrid ERP system:
The initial deploying cost of a hybrid cloud is high
Some organizations don't prefer to store data at an off-site location, and that will make the hybrid cloud environment inaccessible to public clouds
If not picked correctly, cloud compatibility can become a real nuisance for Hybrid Cloud environments
A fast performing on-premises infrastructure may not be able to successfully perform in coherence with a slow-performing public infrastructure resulting in a sluggish performance of the Hybrid Cloud.
On-Premises
And here are some of the Pros of having an On-premises ERP system:
Reduce the initial price of the system
Data security is in the hands of the organization
Greater ability to customize
The organization has more control over the implementation process
And here are some of the Cons of having an On-premises ERP system:
Upfront investment can be seen as riskier
Data security is in the hands of the organization. Due to high governance and security protocol, some organization may not have the resources
The implementation process can take significantly longer
What is the Best ERP System?
There are plenty of great enterprise resource planning systems available on the marketing for all types of business industries and sizes and ERP software isn't just for a multinational corporation but even small and medium-size businesses can benefit from using the ERP system in Malaysia and Singapore.
It all comes to your requirements and what your business needs from the ERP system to manage core business processes and day to day tasks. Thus, your organizations must properly assess ERP systems and have a clear picture of what exactly your business needs from the ERP system.
Although there are many enterprise resource planning systems available on the market, an independent leading provider of investigative information technology has asses over 20 ERP solutions on the market in 2020.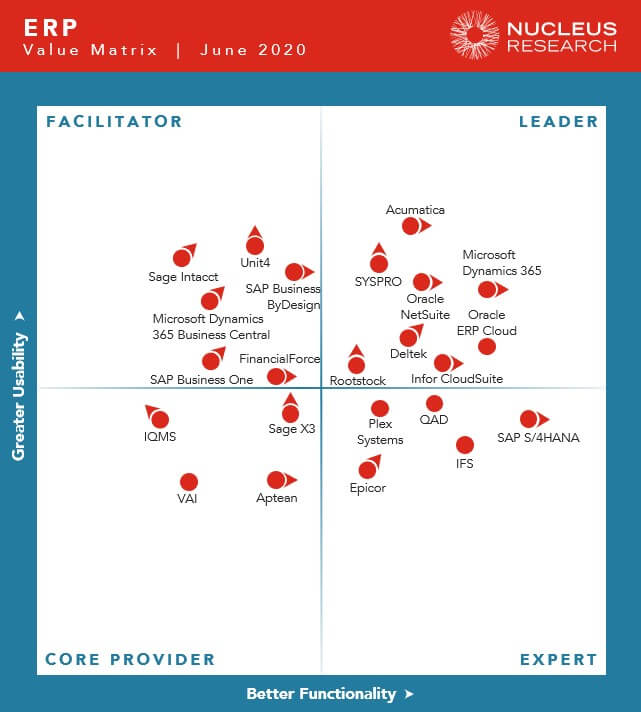 Enterprise resource planning (ERP) software is the centerpiece of many enterprise application setups and remains a battleground for vendors looking to improve operational efficiency and enable growth through modern technologies.
Transitions to cloud deployments now command even higher prioritization as remote work and collaboration capabilities have become essential for long-term success. To facilitate these migrations, many vendors have consolidated their service offerings to a select few industry verticals, allowing them to tailor capabilities such as artificial intelligence (AI) and the Internet of Things (IoT) to specific use cases. Results for these vendors and their customers are encouraging, as the focus yields increased implementation success rates and improved customer satisfaction. (Source)
If you are interested to download the research you can download the research here.
Why Choose Dynamics 365 in Malaysia and Singapore?
Microsoft Dynamics 365 has been selected as the leader in ERP technology helping businesses digitally transform, connect people and processes, and centralize data.
Microsoft Dynamics 365 ERP and CRM systems are the only solutions that provide all core components to help every business to digitally transform.
Dynamics 365 is a combination of leading technologies such as business management solutions of ERP and CRM technologies, collaboration solutions, and productivity solutions such as Microsoft 365 suite applications, leading & secure cloud technology, and Microsoft Power Platforms.
And everything is seamlessly connected allowing employees to reduce the friction of switching between apps and not wasting the time of using multiple tools and copy-pasting across tools.
Thus, is Dynamics 365 helps businesses in Malaysia and Singapore to:
Reduce and save costs
Increase business efficiencies
Centralize all data across departments and from third-party tools with easy to integrate options
Create actionable insights in real-time powered by AI to make smarter and faster decisions
Increase collaboration among employees
To do more with less, as employees become more productive
Streamline and automate repetitive tasks and allow focus only on the most important tasks
Secure business with the most secure cloud solution
Enhance customer experience
Increase Sales Productivity and more
And the combination of these tools and benefits comes with an affordable price even for small and medium businesses in Malaysia and Singapore making it the perfect ERP and CRM solution.
To learn more about Dynamics 365 in Malaysia and Singapore contact us and the expert of the Dynamics 365 team will get in touch with you shortly.
Our experts will help you to completely understand Dynamics 365 offerings, customization, pricing, and more.
Also, you can request for free Dynamics 365 demo from the leading Microsoft Partner in Malaysia and Singapore. Get Started Now!
Modular ERP: The Key to Corporate Agility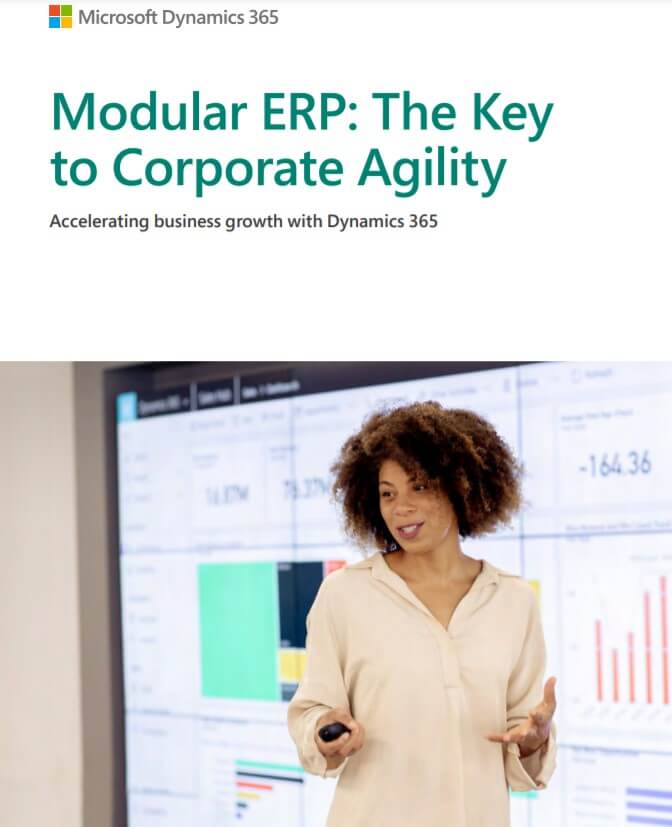 Sources:
https://adynamics.com.my/wp-content/uploads/2020/12/erp-system-made-simple-in-malaysia-and-singapore.jpg
720
1278
Eduard Dziak
https://adynamics.com.my/wp-content/uploads/2020/12/Agile-Dynamics-Solutions-Microsoft-Partner-in-Malaysia-and-Singapore-Logo.png
Eduard Dziak
2021-05-10 10:38:00
2021-05-27 15:01:27
What is ERP System and Why You Need It?