What you should know about moving your Malaysian organization to the cloud and the benefits of making the switch.
Read on to learn about the security advantages and migration techniques of cloud-based tools. You may have heard a lot about the benefits of the cloud, but do you know why—or how—it can help drive greater impact?
From security advantages and organizational control of data to ease of use and increased agility, cloud-based ERP applications can help your mission.
DOWNLOAD OUR EBOOK: The Total Economic Impact™ Of Migrating To Dynamics 365 In The Cloud
In fact, by transitioning to a cloud environment, you can take advantage of:
File access anywhere online
Secure data backups
Real-time communication
Business intelligence
And there is more to discover from using cloud-based technologies like Microsoft Dynamics 365 ERP and CRM for your business to increase efficiencies, increase collaboration, and save costs.
Understanding how Cloud technology influence your business helps you to better understand why companies are moving to the cloud. The total economic impact of moving to the cloud explain exactly that. Download our ebook.
1. Cloud-based applications are here to stay.
On-premises hardware is becoming less and less attractive to an organization as 92% of SMBs are now using at least one cloud business solution and 50% of companies are soon acquiring, upgrading, or planning to update ERP or Cloud ERP systems soon.
The reasons are because cloud technologies offer greater profit and ROI as the companies that have adopted Cloud ERP systems are making and saving more money. As reported, small and medium-sized businesses that invest in the cloud report up to 25% growth in revenue and up to 2x the profits over those who don't.
Additionally, cloud deployments provide a greater return on investment (ROI) than traditional on-premises software projects, especially in ERP and CRM. For example, Nucleus Research determined that companies that use Microsoft Dynamics 365 see a return of $16.97 for every $1 spent. That's well above the average for on-premise ERP and CRM applications. (Source)
 The cloud market is expected to pass $500 billion by 2020. Customers are emerging modern cloud infrastructure and the demand for cloud technologies is growing year by year.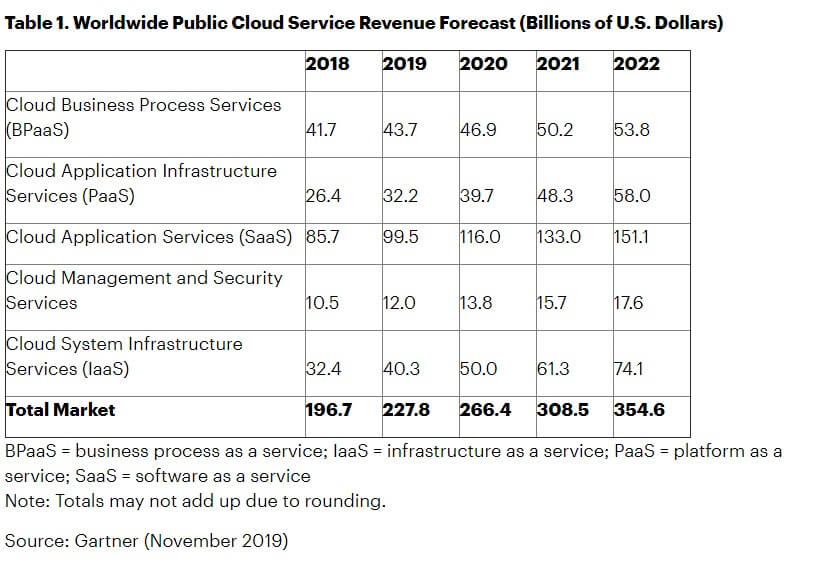 (Source)
As said Sid Nag, "At this point, cloud adoption is mainstream. The expectations of the outcomes associated with cloud investments therefore are also higher. Adoption of next-generation solutions is almost always 'cloud-enhanced' solutions, meaning they build on the strengths of a cloud platform to deliver digital business capabilities."
2. Security comes standard.
As cloud technology improves, security fears lessen. In a survey of enterprise IT managers, security is no longer ranked as the #1 concern when it comes to cloud computing.
Enterprise IT managers who have rated cloud security as a significant challenge:
In a recent study by ComScore, over 40% of small businesses were worried about data security before moving to the cloud. After making the switch, 94% of businesses reported security benefits they had been unable to achieve with their previous on-premises resources.
One of the biggest advantages of moving to the public cloud is the security team that comes with it. By moving to an enterprise-level public cloud, you'll experience:
Scale: A public cloud will always be large enough to store and secure your data
Intelligence: Public clouds monitor for millions of threats. As soon as one is detected on one customer tenant, the cloud provider can mitigate the attack across all other tenants.
Automation: Less human touch results in fewer mistakes and fewer opportunities for security breaches or insider threats.
Organizations in Malaysia are saving time and money. And every dollar they save is making it to the field to help those that need it.
Cloud providers are constantly improving their security systems. Microsoft is investing USD 1BN every year to keep their customers' data safe. And Malaysia based organizations that use Cloud ERP system from Microsoft achieved greater data security that could not achieve by themselves.
The Total Economic Impact™ Of Migrating To Dynamics 365 In The Cloud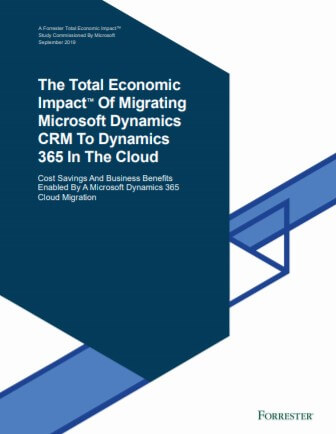 3. Move at your own pace.
Cloud migration does not need to happen all at once, and it's recommended to migrate to the cloud over time with a hybrid approach—the combination of an on-premises, private cloud and third-party, public cloud services.
Organizations that are operating their ERP system on-premises might want to explore some capabilities of Cloud ERP systems and their benefits. Therefore, they might deploy supporting applications in the cloud and connect them.
Also, the Hybrid approach can be more suitable to some organizations due to governance and industry regulations as it gives the flexibility of having data in the cloud and on-premises as needed.
Advantages of the hybrid cloud:
Control—your organization can maintain a private infrastructure for sensitive assets or workloads that require low latency.
Flexibility—you can take advantage of additional resources in the public cloud when you need them.
Cost-effectiveness—with the ability to scale to the public cloud, you pay for extra computing power only when needed.
Ease—transitioning to the cloud doesn't have to be overwhelming because you can migrate gradually—phasing in workloads over time.
4. Using the cloud doesn't mean new tools.
Moving to a cloud-based solution does not have to mean retraining employees. Many solutions allow you to use the same applications your employees are used to, with access to files anywhere online.
Many Cloud ERP and CRM systems like Dynamics 365 comes with integration that allows your employees to use the same tools you are used to.
This reduces the adoption time and enables organizations to use their new Cloud solution to its maximum and get a return on investment (ROI) much faster.
Microsoft Dynamics 365 comes with seamless integration with tools like Microsoft 365 applications (Used to Office 365) and third-party tools allowing organizations to minimize the friction of switching between apps and learning new tools.
Therefore organizations switch to Microsoft ERP cloud solutions makes them significantly more efficient in normal times but will make them far more effective when they respond to a disaster moving forward.
5. The sky's the limit.
Cloud adopters see various benefits from their technology, although businesses' top-cited benefits in 2020 include:
93% experienced an increase in productivity outside of the office because of cloud technology.
The top three benefits businesses said they gained from an ERP system are reduced process time, increased collaboration, and a centralized data system.
When asked to select areas where ERP produced ROI, the top three answers were reduced IT costs (40%), reduced inventory levels (38%), and reduced cycle time (35%).
Cloud technologies are transforming the way how we are doing business by increasing agility, improving efficiencies, and saving costs, and businesses of all sizes are turning to cloud ERP system.
The Cloud ERP system is a great way to operate a business since it offers many advantages and only a few disadvantages and Businesses of all sizes, geographies, and industries are moving into the cloud.
Next
Data suggest that some business leaders are considering replacing their on-premises enterprise resource planning (ERP) suites with the new breed of cloud-based core business applications, which Forrester calls digital operations platforms (DOPs). Leaders believe a DOP will enable them to increase business agility, improve the employee experience (EX), and deliver superior business operations.
A leader in ERP technology Microsoft Dynamics 365 helps transform small and medium-sized businesses with their cloud business management solution Microsoft Dynamics 365 Business Central helps businesses to:
Avoidance of one full-time equivalent (FTE) and one part-time equivalent finance and operations hires
Improved flow of operations by an average of 8%
Elimination of more than $44K of third-party reporting spends over three years.
Avoidance of more than $40K in costs pertaining to the previous solutions.
Improved Employee Experience (EX)
If you want to learn more about the Cloud ERP system for Small and Medium Businesses in Malaysia and Singapore, contact us and we will provide you with a personalized demo or more information.
The Total Economic Impact™ Of Migrating To Dynamics 365 In The Cloud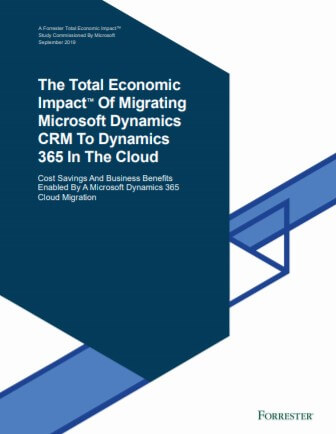 Related Articles:
Sources:
https://adynamics.com.my/blog/cloud-erp-statistics/
https://adynamics.com.my/wp-content/uploads/2021/01/why-malaysia-based-companies-should-move-to-the-cloud.jpg
800
1200
Eduard Dziak
https://adynamics.com.my/wp-content/uploads/2020/12/Agile-Dynamics-Solutions-Microsoft-Partner-in-Malaysia-and-Singapore-Logo.png
Eduard Dziak
2021-01-08 11:08:40
2021-02-26 16:36:59
5 Reasons Your Malaysian Organization Should Move to the Cloud