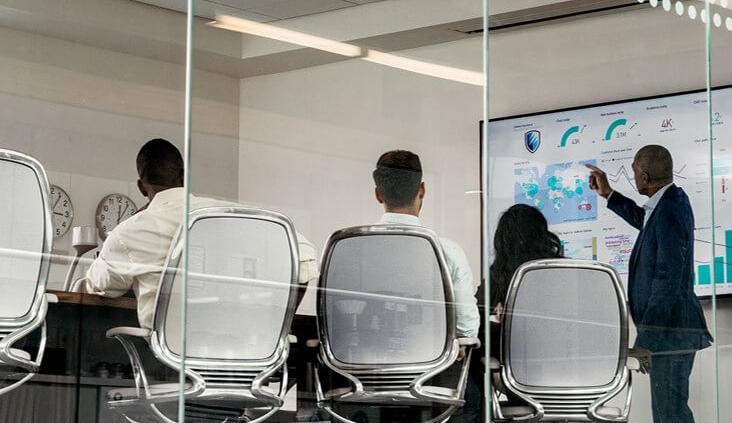 In this article, we will look at how to evaluate ERP vendors in Malaysia in a step-by-step process to ensure you are shortlisting only the relevant vendors that can accommodate your needs and fit your budget.
ERP applications are becoming vital for running efficient modern operations in the digital economy. We are seeing an incensement in demand for ERP applications in the Malaysian market.
Small and medium-sized businesses are moving from basic and on-premises solutions to cloud technologies to increase the agility and profitability of their businesses. Larger organizations have seen the importance of modernizing their legacy ERP and other business applications as well.
All this sudden move is due to the need for digitalization, automation, and modernization of their operations. This movement along with the COVID-19 made ERP systems essential tools for businesses around the world including Malaysia and Singapore.
However, because these systems can be complicated and organizations often require industry customization and their own customization based on their needs, it brings challenges to evaluate the potential ERP vendors on the market in Malaysia.
ERP vendors like Microsoft Dynamics 365, SAP, and Oracle are the leaders in ERP technologies, however there are also local ERP vendors as well. And All these options can make it hard for you to evaluate the right ERP vendor for your organization.
Therefore, here is a step-by-step framework to help you evaluate ERP vendors and their solutions faster and more accurately, so you can make the right decision.
Want to evaluate ERP systems for your SMB businesses? Read our guide: How to Evaluate ERP System for Your Small and Medium Business: Step-by-step Guide for Malaysia
Note: We have created excel evaluation forms for the ERP system and their vendors which we will use throughout the article. We recommend you download the spreadsheet for your own purposes and you follow along with the article.
Why Evaluate Your ERP Vendor?
We often see with organizations that they forget to look at the ERP vendors as they are looking only at the ERP system itself. Of course, due to this, they are missing vital information that plays an important role during the evaluating and purchasing process.
Choosing the wrong ERP vendor can lead to unsuccessful ERP system implementation which according to Finance Online research, half of ERP implementations fail at first try. Also, it can bring limitations such as the ERP software or the vendor cannot support your growing business, customize your solution based on your requirements or does not comply with industry and government standards.
Understanding ERP vendors bring you more clarity about the product itself and how it will fit your business requirements.
Also, it is important to know if the relevant partner can support you even after the implementation, whether they provide a support package and have a knowledge library for their users to quickly find a solution.
For example, Microsoft Dynamics 365 provides on of the largest resource library to support their customers with any of their challenges. They provide hundreds of videos, articles, community access, and other resources to help their customers adapt Dynamics 365 ERP and CRM applications as soon as possible and maximize ROI from the ERP investment.
Thoroughly researching vendors and their solutions will help you to save you from headaches in the future, whenever you will need their support regarding any matter. In the end, ERP systems are an investment for the long run, and you need to make sure that the ERP vendor can support you.
But without further due, let's look at the step-by-step process on how to select the right ERP vendor.
Step #1: Research the Vendor (7 Key Factors You Need to Know)
The first step of choosing the right ERP vendor based on your needs and requirements is to research current vendors in the Malaysian marketplace.
This can be confusing especially if you are new to the ERP systems and how they are being sold in Malaysia. The reason why is because the top ERP vendors in Malaysia like Microsoft and others are selling their business applications via an ecosystem of partners located in the country.
For example:
If you selected the Microsoft ERP applications as one of the potential solutions to be implemented for your business and inquire about a demo from Microsoft Dynamics 365 website, you most probably will be recommended to connect with one of Microsoft Partners in Malaysia.
The reason for this is because the ERP implementation process is complicated and requires customization, connecting with your third-party tools, and more steps to successfully implement your selected ERP system for your company.
This means you not only must research the ERP vendors themselves but also you must find the right partner that can implement your ERP system successfully and support you even after the implementation with training and support plans.
Before we move to step #1 for researching the vendor, we also recommend you download our ERP Vendor Evaluation form, where you can easily track and evaluate potential ERP vendors and their partners for your organization.
Answering questions when you evaluate your vendor as a partner. How do their services align with your requirements?
When you weigh the different available ERP systems, it is important to find a reputable vendor who is willing to support your adoption through training and education.
Can they quickly assimilate with your operations and articulate how their service will help support your goals?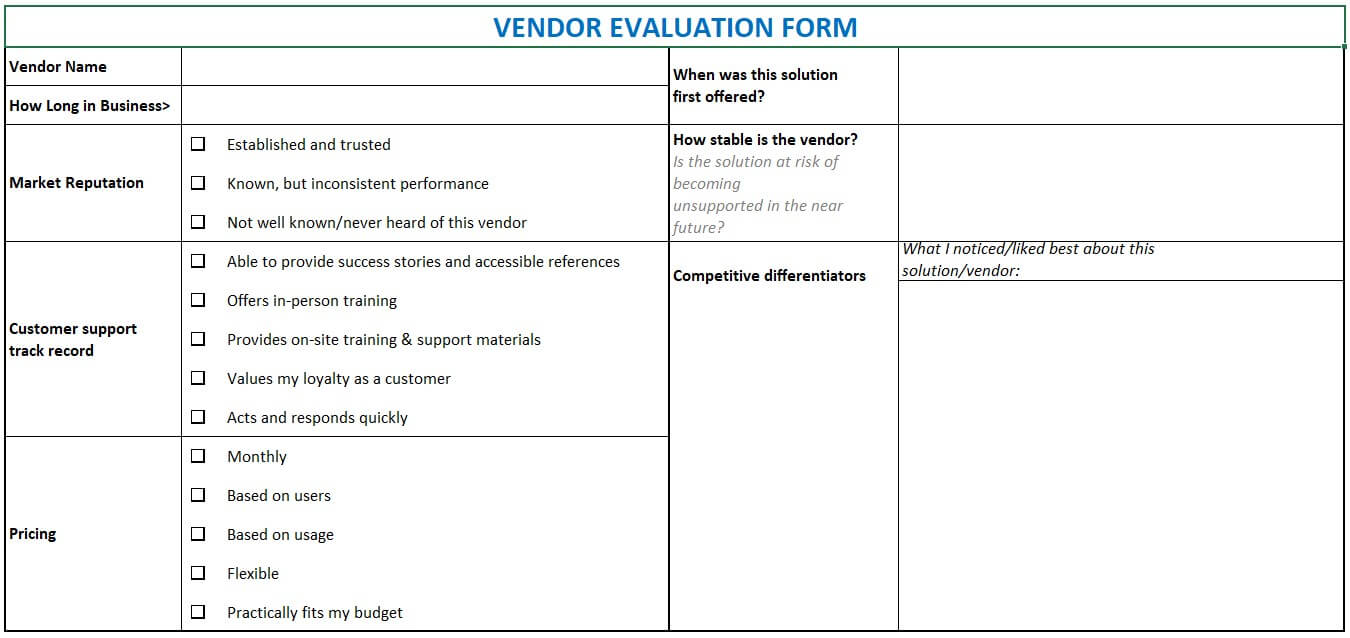 Download the Excel Spreadsheet
All these and more you need to ask yourself when you are evaluating ERP vendors in Malaysia.
Agile Dynamics Solutions is the leading Microsoft Gold Partner with the largest customer base in Malaysia. We have implemented 1,000s of projects and have developed a unique implementation methodology with a 100% success rate. If you are searching for a new or upgrade legacy ERP system for your business, request a free Dynamics 365 demo from us.
1. How Long in Business
When you are researching potential vendors, you want to know how long they have been in business. This applies to both vendors and their partners that are reselling and implementing the ERP vendor solutions. Experienced ERP vendors and their partners with years of experience behind their belt is a first great sign that their ERP solutions and services have been already tested and they probably know what they are doing.
So even though, implementing ERP systems can be messy and chaotic, having an experienced ERP vendor can make the whole process less chaotic and messy.
Long years of experience is an important first sign and can be reassuring to a certain level that the ERP vendor will understand your needs and requirements. However, it is not everything.
2. Market Reputation
The second important aspect when you are researching potential ERP vendors is their market reputation. A good market reputation instils a perceived value in people about the solutions, which helps you to understand how customers, non-customers, and experts perceived the ERP solution.
For many experts, business reputation could be the single most important aspect of why customers are doing business with you. If customers cannot trust the vendor to deliver on their promises, then they will never buy from them.
Of course, research the market reputation is often very hard, as you cannot always see all their customers and what they are saying, but having general knowledge about the brand reputation, their solutions, and their partners will help you to make the final decision.
In our form, we have come up with 3 different market reputation:
Established and Trusted: Brand that has been on the market for a long time with a proven track record of customers and the solution roadmap.
Known, but inconsistent performance: Brand that has been in the marketing for some time, but solution not stable or not tested enough.
Not Well Known/Never Heard of This Vendor: Brand with a few customers and small exposure to the market with hard to find any track of record about the company.

Download the Excel Spreadsheet
This will simplify your process of understanding the market reputation and how the ERP solution is perceived by the Malaysian Market.
3. Customer Support/Track Record
The next aspect of evaluating your ERP vendor is the customer support and track record.
Understanding how potential ERP vendor will support you after implementing drastically improve the adoption success of the ERP system.
Changing to a new system disrupt your operations and change management will be required from your company to help employees quickly learn the new system. Ultimately, the system is as good as your employees can use it.
Within the form we have created, you can see 5 different columns that reflect how a potential ERP vendor can support your business once you have implemented their system.

Download the Excel Spreadsheet
4. Pricing
The fourth step in the research of potential ERP vendors for your organization is to look at the pricing model of the ERP system.
Modern cloud ERP systems come with flexible pricing that allows organizations to subscribe to only modules they need and the number of users that they require.
This helps organizations to save costs while allowing them to scale up or down as needed. This gives a company the needed agility to quickly adapt to market changes.

Download the Excel Spreadsheet
Therefore, the next important aspect when choosing ERP vendors is to determine the pricing model of the ERP software which will help you to find the most cost-effective ERP solution for your organization.
5. When was the Solution first offer?
Another important aspect of choosing your ERP vendor is to know when the solution was first offered and how long it is on the market.
This information will give you a clear picture of whether the ERP system is new or already established in the market. Typically, older ERP systems have been already proven by many companies.
Long-standing ERP systems often come with a team with a ton of experience within the industry and the systems are usually very stable with proven implementation methodology for each industry to ensure the system delivers the best practices and efficiency for your business.
Also, the longer the history of the ERP vendor and their partners is the more stable the product is. The same applies to the service provider partner that offers to implement these systems.
Searching for more established ERP vendors and partners brings certain comforts for the implementation project and the system itself.
6. How Stable is the Vendor?
The next key part of ERP vendor research is to understand how stable the ERP vendor on the market is. I have already a little bit mention this in the previous part but let us describe it more.
Often ERP systems are long-term investments due to their high cost. It used to be, businesses implemented the on-premises ERP system and have been using the same system for the next ten to twenty years with minor upgrades.
Nowadays with cloud technology, the ERP systems can be even longer an investment for businesses as it works on SaaS (Software as a Service) pricing model, where businesses pay monthly or yearly subscription fee.
Cloud ERP software often lowers the initial cost of implementing an ERP system making it more affordable for even smaller size businesses. Also, Cloud ERP systems come with continual upgrades ensuring that the business runs on the latest version that comes with the latest technologies.
Like this, businesses can focus on optimizing their ERP system and adding extra customization without worrying that in the next 10 years or so, they will have to implement a new system and redo everything.
However, this makes it even more important to find a stable ERP vendor with a promising long future as your business might be using the vendor's ERP system for the next few decades or even longer.
7. Competitive differentiators
The last part of researching ERP vendors and their partners is their competitive differentiators.
At first, all ERP systems might sound the same to you with the same features and capabilities, but nothing could be further from the truth.
Each ERP vendor offers a different set of tools, customizations, and other aspects of the ERP system that might fit your business needs. Therefore, the very important aspect of researching ERP vendor and their partners is to find out the competitive differentiators.
Step #2: Interview the Vendor: What Questions to Ask of ERP Vendors?
Once you have all the information you need about the potential ERP vendors, the next step when evaluating ERP vendors in Malaysia is to interview them.
This can be done via a call like Microsoft Teams, personal meeting or simply sending the list of questions on the email and let them answer it.
Of course, the questions you want to ask depends on your needs and the challenges that you are facing and want to solve. However, there are some standard questions that we recommend asking when you are evaluating ERP vendors.
We have prepared a list of common and recommended questions that you can see here in this picture.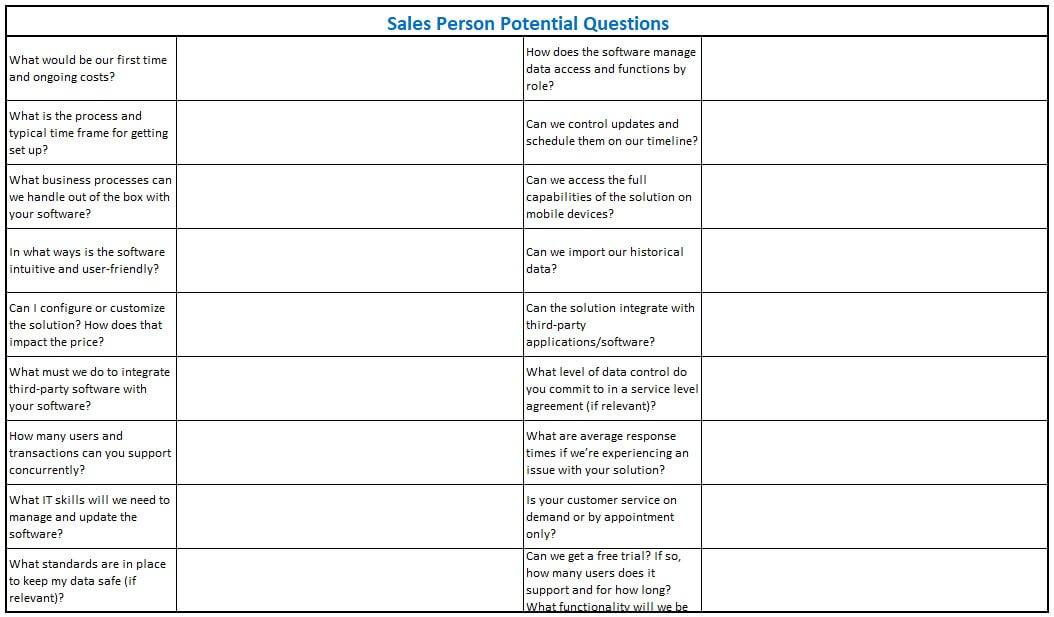 Download the Excel Spreadsheet
Note: Also, you can download our full excel sheet on how to evaluate the ERP system and its vendors. Download it here. Also, visit our guide on How to Evaluate ERP System for Your Malaysian Business.
This list of questions will help you to get important information to further qualify the options you have when you are selecting ERP vendor and their systems.
Of course, it's not mandatory to ask all the questions, but only those that are important to you and you will need the answer to make the decision.
Step #3: Evaluate the ERP Vendors
By now you should already have a clear picture of the potential ERP vendors and their solutions. At this stage, you will understand solutions that are available on the market and which ones are closes to solve your business needs and challenges.
Now, it is time to actually evaluate your selected ERP vendors by comparing them against each other. We have created a form that should help you with just that!
Here you can see our ERP vendor's summary evaluation form.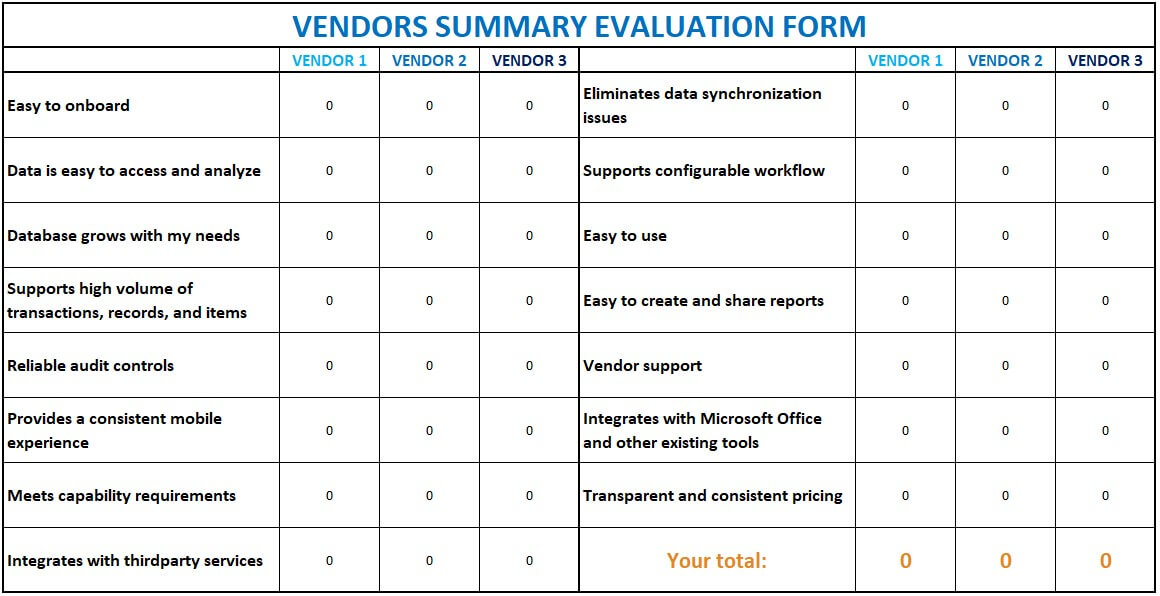 Download the Excel Spreadsheet
Rate each ERP vendor (1-5, 1 is bad, 5 is ideal) based on how they meet your needs in the columns below.
This will give you a clear picture of how each ERP vendor compares to each other, where are their strengths and weaknesses and how they fit based on your requirements.
Step #4: Shortlist & Try Their Solutions
And the final step is to shortlist those ERP vendors and request a demo from their site so you exactly see how it will solve your business unique challenges and support your business growth.
Live demos are an essential part of any decision. Ask sales representatives for a personalized demo to see how their service will work for your business.
However, this guide is not about How to evaluate ERP system, which you can read here to learn more about it.
But check out our Excel spreadsheet with the forms that are included within this guide.

Download the Excel Spreadsheet
Our excel spreadsheet will help and guide you to track your ERP system and ERP vendor evaluation process from the beginning to the end, so make sure to check it out.
Final Advice
Our last advice is to make sure you maintain healthy communication with your ERP vendors, as they can help you and suggest to you what application will meet your requirements and needs.
ERP systems can be complicated especially if you are not a technical guy and ERP experts can help you to better understand those systems.
Luckily, you don't have to visit their sites as today's communication can be done via channels like Microsoft Teams for your convenience.
So, ask your ERP vendor representatives any question you have and make sure you understand everything before you make the decision. Ask as many questions as you need.
We understand that ERP systems are complicated, and we welcome our customers and prospects to ask as many questions they need to completely understand.
We also provide free personalized demos online or on-site depending on your needs. Contact us for more information.
Agile Dynamics Solutions is the leading Microsoft ERP and CRM partner in Malaysia with 30 years of experience and providing services for Microsoft Dynamics 365, Power Platforms, and Microsoft Azure. Contact us and request our customer examples. We have the largest customer base in Malaysia across industries.
Related Articles:
https://adynamics.com.my/wp-content/uploads/2021/03/how-to-evaluate-erp-vendor-in-malaysia.jpg
574
732
Eduard Dziak
https://adynamics.com.my/wp-content/uploads/2020/12/Agile-Dynamics-Solutions-Microsoft-Partner-in-Malaysia-and-Singapore-Logo.png
Eduard Dziak
2021-03-19 16:45:03
2021-05-27 15:48:14
How to Evaluate ERP Vendors in Malaysia (Step-by-Step Process to Evaluate ERP Vendors)