ERP systems are becoming vital for modern organizations to function well and stay competitive in the new normal.
For many companies, growth is the very measure of success. At the same time, it creates challenges of its own. Processes break down. A flood of new data obscures valuable insights. Technology bottlenecks slow the realization of business opportunities.
Traditional, on-premises enterprise resource planning (ERP) solutions can make these problems worse. As a business owner, executive, or c-levels, you may be tempted just to shore up existing systems.
Forward-thinking business owners, however, use growth as an opportunity to re-evaluate their company's approach to ERP systems. With a modern, cloud-based solution, they gain the agility and scalability they need to grow at the speed of opportunity.
This is especially important because the CFO's role continues to evolve from one of support to more strategic responsibilities. By increasing automation of traditional accounting and financial tasks, you can be free to focus on the future – things like identifying opportunities, ensuring ROI, and optimizing the value chain.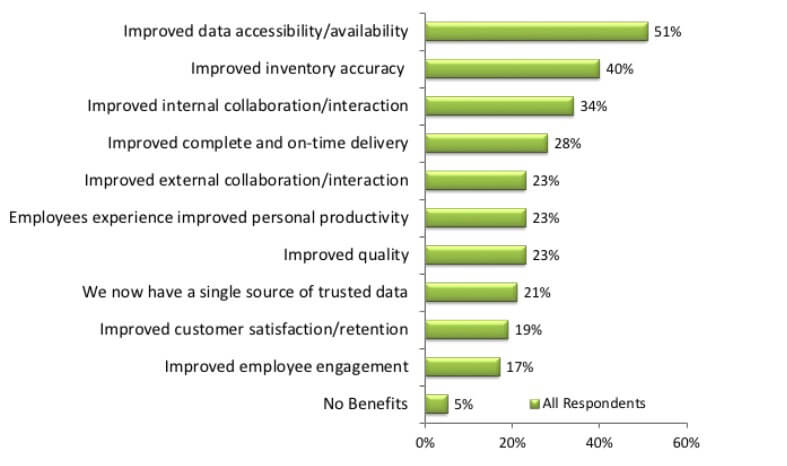 (source)
In this article, we'll look at some of the benefits of modern ERP systems that enable the digital transformation of every corner of your business.
Download Now: Download The Total Economic Impact™ Of Microsoft Dynamics 365 Business Central (ERP System for SMBs in Malaysia)
1. Strong ROI
Investing in technologies always comes with whether it proves to be useful and mainly if it brings positive ROI for the company. The decision to implement an ERP system for your organization comes usually with a big price tag as well.
Leaders are considering replacing their on-premises enterprise resource planning (ERP) suites with the new breed of cloud-based core business applications, which Forrester calls digital operations platforms (DOPs). Leaders believe a DOP will enable them to increase business agility, improve the employee experience (EX), and deliver superior business operations.
Forrester's analysis of five current Microsoft customers found that Dynamics 365 Business Central the ERP system for small and medium Size businesses enabled these organizations to bolster operational efficiency, avoid costs, and comfortably scale their deployments with growth while benefitting from the flexibility inherent in the cloud.
An analysis based on a $15-million, a 250-employee composite organization modeled after the five interviewees demonstrates benefits of $466K over three years versus costs of $178K, adding up to a net present value (NPV) of $288K and an ROI of 162%.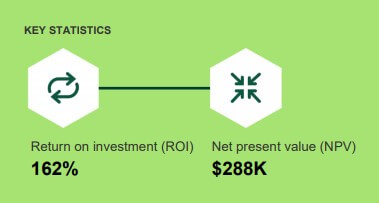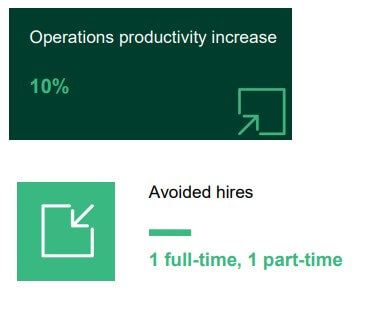 Download The Total Economic Impact™ Of Microsoft Dynamics 365 Business Central
2. Increase business Efficiencies
ERP system is empowering manufacturers, distributors, governments, healthcare, and other industries to join the revolution, to better manage operations, build innovative products and reach new levels of growth and productivity.
As a chief operating officer, you have got a lot on your plate.
Making day-to-day decisions, setting team policies, aligning operational activity with long term objectives, maintaining excellence.
Not to mention promoting growth and profits. To meet these challenges, you need a central source of intelligence. You need instant knowledge of your workforce and supply chain.
You need the flexibility to collaborate anywhere on any device. You need the insights to drive change rather than react to it.
Modern ERP systems Amplify productivity and efficiency with customizable role-based workspaces. Your team gets overviews of relevant processes with both transactional and analytical data through visuals, tiles, KPIs, and quick links to reports and pages.
You can get employees behind strategic goals and better equip them to respond to organizational and customer demands.
The Total Economic Impact™ Of Microsoft Dynamics 365 Business Central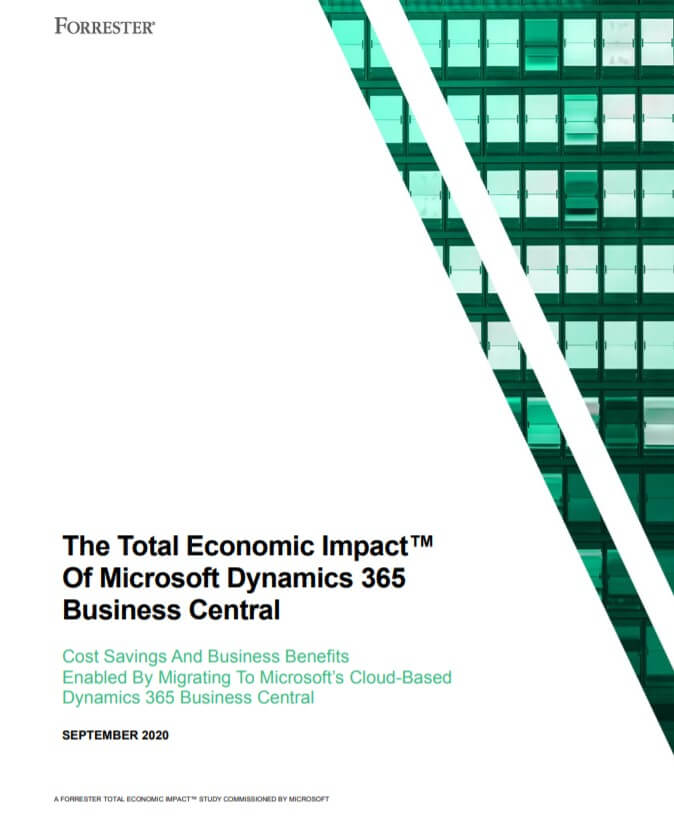 3. Improve Collaboration
ERP System connects your cross-functional teams within a single application, helping them work together more effectively and streamlining everyday tasks like time entry and expense management to drive project success.
Better connected, highly productive teams are the fabric of operational excellence. ERP system can integrate with collaboration tools to give your remote teams a secure hub to collaborate on projects efficiently from anywhere, anytime.
With calls, meetings, documents, apps, and more centralized collaboration tools and ERP system, it improves the quality of all teamwork and accelerates the cross-team workflows that keep your projects on time and budget.
According to TEC research, one of the top benefits of implementing an ERP system is increased collaboration

4. Single Source of Truth
Single Source of truth allows you to connect multiple sources of data and quickly analyze them.
ERP systems can integrate with other third-party tools and brings all the data together where it is stored securely can be analyzed to create actionable insights.
A unified data source is important for organizations to have a view of the entire business which allows you to predict future trends or avoid challenges. This reduces the potential risk organizations may face in the future. Such as short in-stock supply or excessive stock which can cost you money.
ERP Systems also reduce human errors as you do not need to manually insert data which not only consume a lot of time but is prone to data errors or duplicate causing all kind of troubles.
If you do not have a current, single source of truth data management system, problems could ensue. A lack of data integrity could negatively impact your business no matter what industry you are in.
Successful businesses use data from one authorized source. ERP makes corporate data easily accessed and synthesized, and managers may be concentrated on pro-active decision making.
5. Improved and Speed up Reporting
As business is growing the amount of data your businesses are generating is increasing with it. Once easy to handle with a small accounting solution and Excel spreadsheet now is becoming hard to handle and produce a report.
With an enterprise resource planning system, you can handle the increasing amount of data your system is generating. ERP system helps you to effectively store and share information and with the latest AI technologies, it also helps you to analyze data and create insights.
Therefore, ERP systems improve data accuracy, remove duplicated data and automate repetitive tasks to eliminate human errors. It provides access to many meaningful and comprehensive reports that give companies the transparency needed to make essential business decisions.
With real-time visibility into data across departments such as accounting, sales, marketing, supply chain, and more, you can quickly pull up data and create reports and make the right decision.
6. Improve Sales and Customer Service
According to the latest Walker Study, at the end of 2020, customer experience will overtake price and product as the key brand differentiator.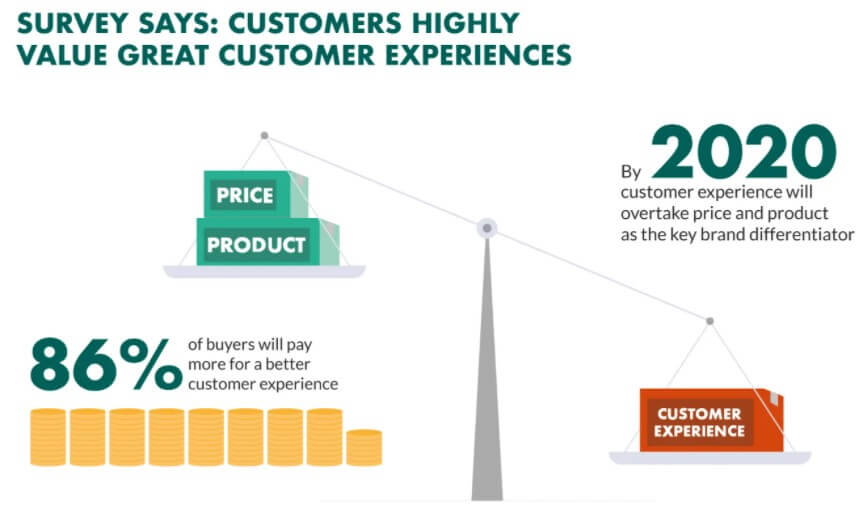 (source)
When a company wants to improve customer service and increase sales the first solution that pops is a customer relationship management system, but a few know that ERP systems help with delivering great customer service and increase sales.
While CRM system is mostly focused on customer data, ERP system helps to streamline the backend business processes.
An ERP system helps companies: deliver goods to customers faster, improve productivity, and implement inventory control. A modern system also fosters better customer communication through reliable lead, opportunity, and quote tracking.
Also, the modern ERP system helps with order fulfillment by connecting sales order management to fulfillment management. 
Of course, we could carry on with the ERP system benefits of how it helps with customer service and sales. But we believe it might be better to see it on your own. Therefore, request a personalized demo, and our specialist will show you exactly how your business can benefit even more.
7. Increase Agility and Flexibility of a Business
ERP systems are designed to improve business core processes and building process agility. With ERP systems you can deliver real-time business intelligence and quickly discover your company's internal and external strengths and weaknesses.
With strong data analytics and information, your businesses can quickly react and improve business processes. This can help you to find underperforming processes and improve them.
Modern ERP systems also leverage mobile technologies that help you to get and update information and launch appropriate actions across the entire value chain. 84% of growing businesses feel that mobile technology has positively affected their company's productivity. Therefore, Cloud with Mobile access is essential to run a business.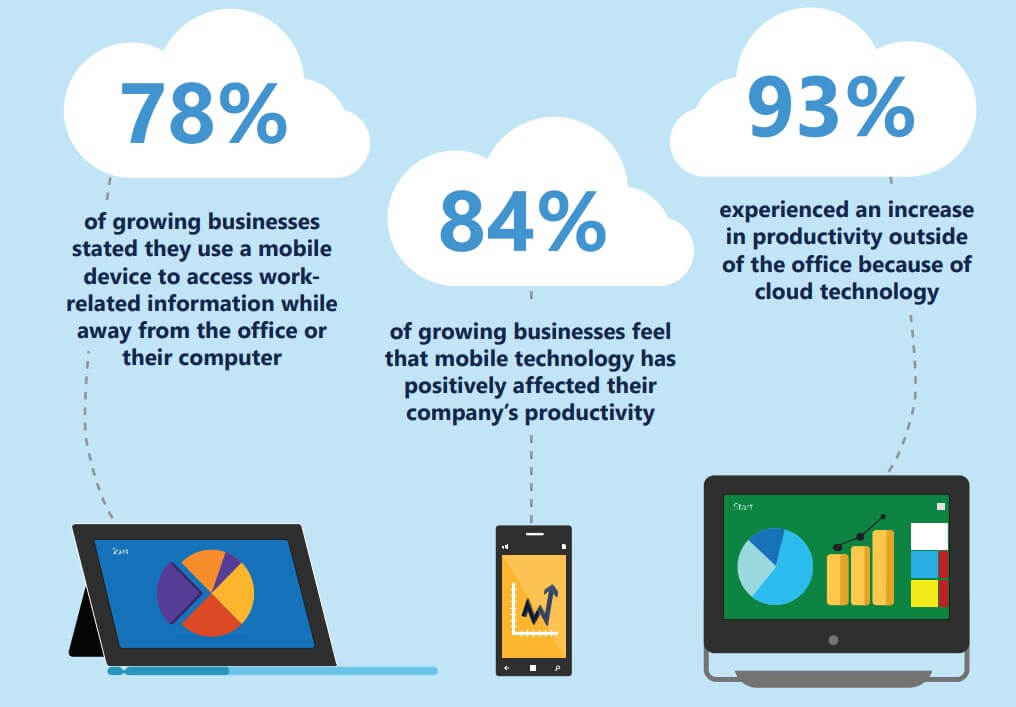 Having agile and flexible business allows you to react to business changes quickly and cost-effectively and enterprise resource planning solutions are the foundation for businesses to be more agile and flexible.
8.     Better and Faster Decision Making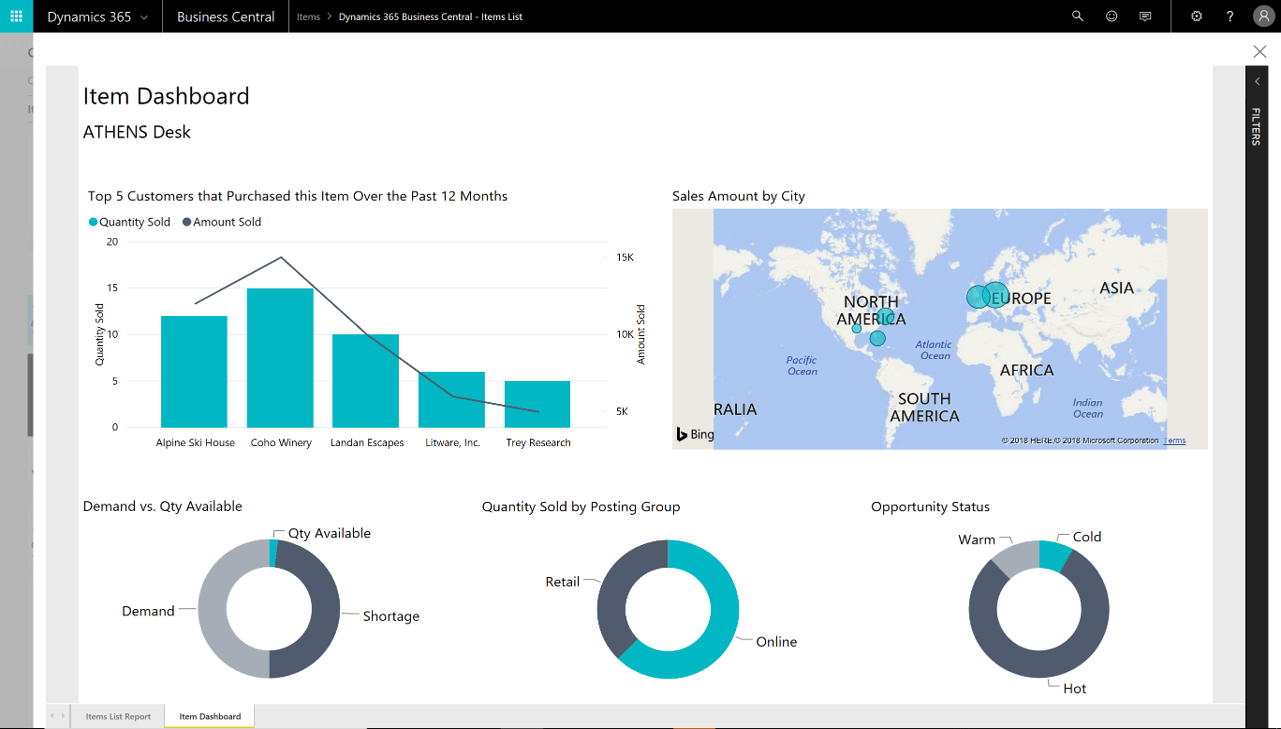 Another big benefit of ERP system and a great advantage over competitors is the way how ERP system handle your company data and create actionable insights.
ERP systems are not only helping organizations to centralize operations by connecting information from different departments and third-party tools, but modern ERP systems help organizations to improve data management.
ERP systems support smarter and faster decision making when analyzing business data, implementing new or improving existing business processes, and ultimately providing valuable insight into how the business is performing in real-time.
And by using technologies like artificial intelligence, you can quickly transform data into insights and create reports that help your company make the right decision faster.
9. Ease to Scale Business
Scalability is nothing but growth in one way or the other. Whenever a business is growing in terms of the number of employees, the number of branches, the number of factories, or in any other way, they also need to scale up their existing technology.
This is when ERP systems bring another great benefit to those who have implemented. Modern ERP systems can provide a number of plugs and play applications to quickly customize your solution for your needs.
Not only that but modern ERP solutions are mostly modular-based applications which means you can easily and quickly extend your ERP solution with a new modular application. For example, if your business is using the Finance module, then you can easily extend it with other modules for supply chain, human resources, or project management.
All these solutions are built to be seamlessly integrated and share data across departments to increase your productivity and efficiencies.
Another way how your ERP system can help scale is by quickly adding new users to the system as needed. This allows you to onboard new employees faster and makes them productive from the beginning.
10. Reduce and Save Costs
The next ERP system benefit is it helps to reduce and save costs. one study finds that on average an ERP can reduce overall operational costs by 23% and administrative costs by 22%. That's a significant saving over time. And while operational savings may be a driving factor to explore ERP adoption, quality ERP programs can do more than just save money.
ERPs cut operational costs and improve efficiencies by centralizing business processes into a single system and remove silos and disparate systems. This means more work can be done while using less time and resources.
Another way how ERP software can help reduce and save costs is it helps you to streamline and optimize your inventory and supply chain management by using artificial intelligence to help you analyze demands and supply to reduce product shortages or over-supplied products that taking up space in the warehouse.
ERPs help you better analyze spending and purchases over time so you can more accurately determine your inventory needs, including tracking, waste analytics, damage assessments, and evaluations of products that are no longer essential to your current business needs.
Honestly, we have just scratched the surface of how a modern ERP system can help you to save and reduce costs, but for each business it is different. Therefore, if you want to learn more about how ERP can help you to save money, request more information and the expert of our team will help you.
The Total Economic Impact™ Of Microsoft Dynamics 365 Business Central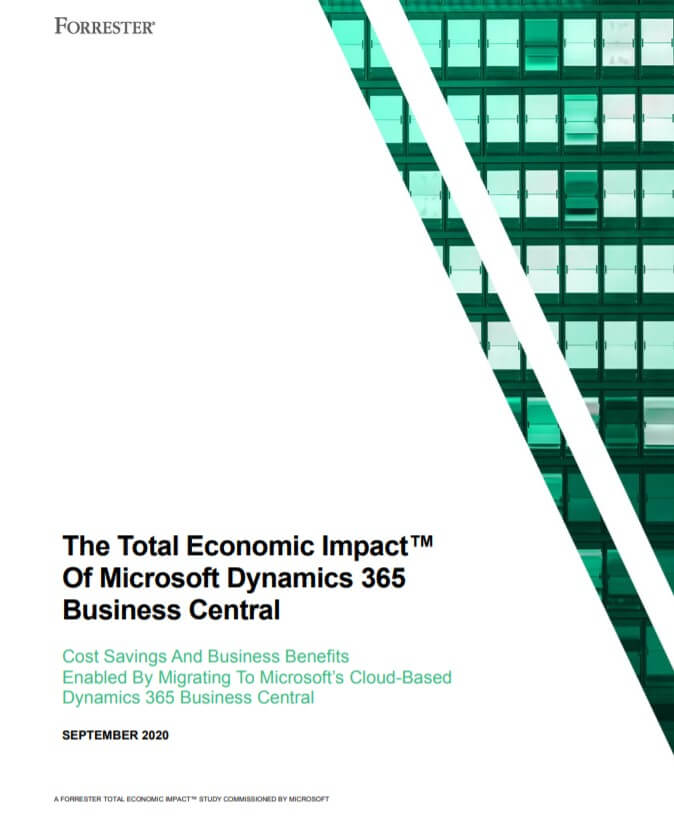 https://adynamics.com.my/wp-content/uploads/2021/03/ERP-system-benefits-for-Malaysia-Base-Companies-to-Digitally-Transform.jpg
734
1306
Eduard Dziak
https://adynamics.com.my/wp-content/uploads/2020/12/Agile-Dynamics-Solutions-Microsoft-Partner-in-Malaysia-and-Singapore-Logo.png
Eduard Dziak
2021-03-08 14:52:45
2021-05-05 12:03:13
Top 10 ERP System Benefits for Malaysia Based Company